Ice Melt Shelf Life- Do Deicers Expire?
The Winter season and its relationship with ice melt are nothing new for most people residing in the United States. Whenever the winter season arrives, people start thinking about how they will protect their family and property from the snow that will get deposited around their properties.
In their fight against the snow, they often choose various deicers available in the market or homemade ice melting solutions to help them. However, most of them end up with leftovers after the winter season. Now the question that comes to their minds is what to do with the leftovers? Will it be safe to use next year? Or will it expire?
To get the answer to all these questions, read this article!
Get ready for winter with the ONLY Pet Safe Ice Melt you can trust
What is a Deicer?
Deicing is the process of snow or ice that gets deposited over a surface. The chemical or device used in the process is known as a deicer. In this article, we're talking about chemical deicers.
Types of Deicers-
The most popular ice melts are generally the ones that have salt as the primary ingredient. These ice melts include- Sodium Chloride (common salt), Calcium Chloride, and Magnesium Chloride. However, these ice melts are very harmful to pets, children, and concrete. So if you want an ice melt that comes with no side effects, you need to stay away from these ice melts.
Safe Paw is an ice melt that is 100% safe for the environment, children, pets, and concrete. It's a urea-based ice melt that is affordable and easy to use.
Pet Friendly Ice Melt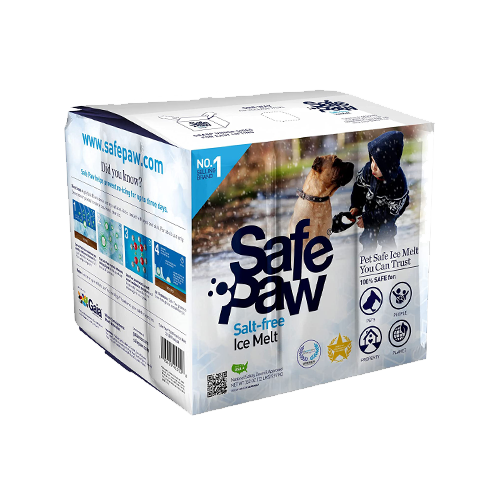 Safe Paw
The Original and the #1 Pet and Child Safe Ice Melt for over 20 years. Guaranteed environmentally safe – will not harm waterways and sensitive wetlands.
Do Deicers Expire?
Now the real question comes, do these devices expire? So if we talk about salt-based, the simple answer is NO. Salt-based deicers don't expire as salt is a mineral that never rots or gets worse. For other deicers like Safe Paw, they too don't have an expiration date, and they can easily be kept for the next year.
Get ready for winter with the ONLY Pet Safe Ice Melt you can trust
However, here's the thing, the deicers of all types should be kept properly and shouldn't come in direct contact with pets and children. This is because if ingested, they can be harmful. Also, salt-based deicers can cause dry paws in pets. 
Get ready for winter with the ONLY Pet Safe Ice Melt you can trust
How to Store Deicers Properly?
Now that you know that deicers don't come with an expiration date, you should know how to store them for the next year properly. Here are a few things that you need to keep in mind while storing deicers-
They should be tightly sealed and protected from moisture and direct sunlight.
They should be kept in a climate-controlled area.
If you plan to store in mass, try to store outside your house. 
Final Thoughts-
After reading this article, you must have got the answers to your questions related to deicers. But here's something you still need to know, you need an ice melt of high quality. Investing in a cheap ice melt has its consequences. Such ice melts might be practical but have harmful effects. So buy a good quality ice melt or have reasonable homemade ice melting solutions for safepaws and safe life. 
Gaia Enterprises Inc. delivers 100% pet-safe and environmentally friendly winter products. Safe Paw, our flagship product, is the #1 selling pet-safe ice melt that does not harm pets, safe if ingested, and safe on all types of concrete.
Other Ice Melt Products
Safe Thaw
Imagine an ice melt you can put down and never worry about. It won't harm pets, kids and your property. That's Safe Thaw. Unlike anything else on the market, Safe Thaw can change how winter affects our planet.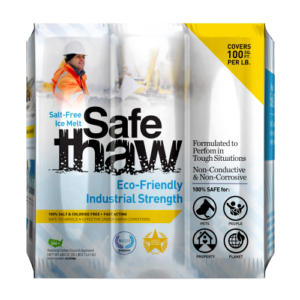 Traction Magic
Stay safe on slippery surfaces with a product that's 100% natural and safe for pets, people, and your property. Use Traction Magic on sidewalks, steps, or as instant traction for your car.