Does Ice Melt Damage Concrete?
When you live in cold weather, purchasing a concrete safe ice melt is the most sensible thing to do. While it is vital to ensure the different compositions of the deicers, it is also vital to consider the forms they come in. If you have pets in your house, then you must be worried about their health and safepaws.
In this article, we will discuss everything related to this and more. Let's get started.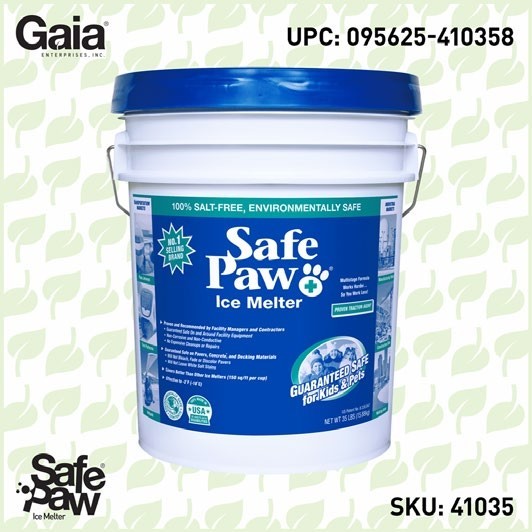 Safe Paw
The Original and the #1 Pet and Child Safe Ice Melt for over 20 years. Guaranteed environmentally safe – will not harm waterways and sensitive wetlands.
Does Ice Melt Damage Concrete?
Concrete may look hard from the outside but it's porous and readily absorbs water. During the winter season, the free water on roads and driveways condenses into ice or snow, but this does not harm the concrete. Deicers, such as salt, are the real culprits when concrete deteriorates. Always use ice melt that is concrete safe. Similarly, moisture in the air in coastal locations carries significant levels of sodium chloride, which can cause concrete to crack and discolor over time.
Freeze-Thaw
The biggest damage that happens due to chemical-based ice melt is Freeze/Thaw. In other words, snow turns into water, and when the cracks in concrete absorb the water, the water freezes and then expands. This expansion, in turn, causes pressure on this build-up, and with time the build-up exceeds the limit that the concrete could withstand.
This is where Safe Paw can be your go-to ice melt. It's 100% safe for concrete and doesn't harm the concrete in any way. The best part is, it's easy to use and can be very effective for melting ice without harming the environment.
Get ready for winter with the ONLY Pet Safe Ice Melt you can trust
Safe Paw Has Several Advantages Versus Salt When It Comes To Concrete:
Eco-Friendly: Safe Paw is eco-friendly. It will cause no harm to surrounding rivers or land once it has completed its task and has been swept away. 
Safe For Concrete: All surfaces, including concrete, rubber, paint, plastic, and pavers, are safe to use. You'll probably want to use your ice melter on fresh concrete, but you might also need to treat existing concrete, walkways, stone, or other surfaces. You can safely use Safe paw ice melter on these surfaces.
Decrease Freeze-Thaw Cycle: Safe Paw has a long-lasting effect and decreases the freeze-thaw cycle, thus, safeguarding your concrete that is less than a year old.
Get ready for winter with the ONLY Pet Safe Ice Melt you can trust
Wrapping Up
If you're still wondering- does ice melt damage concrete, then here are a few points to understand. The higher the quality of the concrete and the better the placement, the less likely the effects of salt will be harmful.
Consider Safe Paw, the ultimate ice melter, if you've recently poured new concrete and want to safeguard your investment while also keeping your property looking its best this winter. Safe Paw will not harm concrete and brick. Safe Paw successfully melts ice and helps to prevent it from forming again in the event of a subsequent storm.
Other Ice Melt Products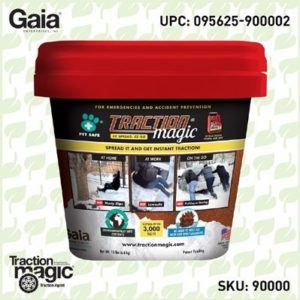 Traction Magic
Stay safe on slippery surfaces with a product that's 100% natural and safe for pets, people, and your property. Use Traction Magic on sidewalks, steps, or as instant traction for your car. Traction Magic provides instant traction on all icy surfaces.
Safe Thaw
Imagine an ice melt you can put down and never worry about. It won't harm animals or children, and it won't damage your property. That's Safe Thaw. Unlike anything else on the market, Safe Thaw can change how winter affects our planet.