Best Non-Corrosive Non-Conductive Ice Melt In Illinois
The Old Farmer's Almanac in its long-range winter forecast has predicted that northern Illinois and the Chicago area can expect "wetter than white" weather this winter. Far western Illinois and southern Illinois are likely in for weather that's "not so cold, not too wet". For forecasting purposes, the almanac has divided the United States into seven zones. And Illinois comes under zone 2 that is the 'cold and very flaky' zone.
If you're a fan of cold and snow, you're probably already enjoying the weather. That's great!
But if you're a savvy homeowner, you may also be looking for snow melting solutions that are effective and safe. The beautiful white snow can be dangerous if not cleared from the pavements and driveways. When fluffy and soft snow turns into a treacherous layer of ice, it can be extremely slippery and lead to serious slip and fall accidents.
Ice Melt Safe For Dogs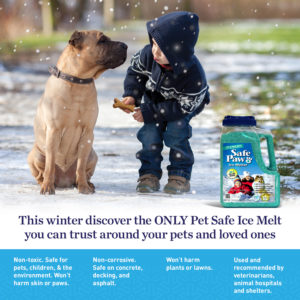 Safe Paw
The Original and the #1 Pet and Child Safe Ice Melt for over 20 years. Guaranteed environmentally safe – will not harm waterways and sensitive wetlands.
Therefore, in this article, we will discuss how to choose an ice melt safe for the concrete. Let's compare all the products against this parameter.
1. Green Gobbler –
The main ingredient in Green Gobbler ice melt is common rock salt that is nothing but sodium chloride. Rock salt is an impure form of table salt that we use at home. Rock salt only lowers the refreezing temperature to about 20 degrees Fahrenheit. It means that ice melt from rock salt will thaw and refreeze anytime the temperature fluctuates above and below 20 degrees, thus causing further damage. Therefore, it is not concrete-safe.
2. Snow Joe –
The main ingredient of Snow Joe is Calcium chloride. This chemical makes the surface slippery and slimy and is not safe to use around pets.
3. Safe Paw –
Safe Paw is an ice melt that is non-corrosive and safe for concrete as it has all-natural ingredients in its blend. Introduced by Gaia Enterprises, Safe Paw is free of all harmful chemicals, corrosive salts, and dyes. It consists of a crystalline amide core. This core is infused with traction agents and glycol admixture. It is the only ice melt that will keep melted ice in a liquid state for a longer duration. It means that ice melt will not refreeze as easily or as often, thus preventing the freeze-thaw cycle. It also prevents ice from sticking to surfaces for up to three days of using it.
---
Weather Forcast
---
4. Safe-Step –
Safe-step uses a blend of rock salt, magnesium chloride, and other salts.
Chloride based salts are detrimental to the concrete of your driveway and damages it. Salt is slightly acidic, and the acidity breaks down the chemical bonds essential to concrete's strength. Another thing that makes the situation worse is that most concrete in driveways are reinforced with steel, and salt quickly corrodes steel.
5. Uline Ice Melt –
Uline also has magnesium chloride in its bled, which is extremely harmful to the concrete and environment. Magnesium can cause significant changes in the concrete that result in loss of material and a reduction in stiffness and strength.
This winter, make sure to protect your driveway from potential ice melt damage and pick up some concrete safe, pet safe, children safe, and environmentally friendly ice melt.
---
Other Products
Traction Magic – Walk On Ice
The handy disposable canister can be taken everywhere with the same 100% naturally occurring minerals that provide instant traction on ice. Use it on sidewalks, steps, or as an instant traction agent for your car.
Safe Thaw
Imagine an ice melt you can put down and never worry about. It won't harm animals or children, and it won't damage your property. That's Safe Thaw. Unlike anything else on the market, Safe Thaw can change how winter affects our planet.
---