Best Ice Melt For Commercial Ice Removal
You can't just sit inside with a cup of hot cocoa and watch the view when there's a thick blanket of snow around your business. To avoid thick ice and snow buildup, property managers must start thinking before the first snowflake falls.  Local authorities often compel property managers to handle snow and ice. From a wide range of ice melt, you have to choose the most suitable product for your premises, which can be either a chloride-based ice melt or chloride-free ice melt.
Here are a few facts that will help you choose the best ice melt for commercial ice removal.
Choose the Right Form
There are three forms for snow and ice melt products:
Pellets
They are the size of a pea. It's simple to put these on the ice's surface. Pellets provide traction thus, safeguarding your business from slip and fall incidents.
Granules
They come with irregular shapes and also provide traction. But their irregular shape may harm the delicate paws of pets.
Liquid
It instantly starts melting snow and ice and keeps it from adhering. It's usually packaged in a bucket with a sprayer. But it does not provide traction.
Chemical Composition of ice melt
In different settings, different ice melt chemicals have different levels of efficiency. Each has its melting temperatures, residual de-icing activity, and environmental implications. Some of the chemicals found in ice melt are 
Calcium Chloride
Calcium chloride operates swiftly in temperatures as low as -40 degrees Fahrenheit. But if you apply too much, it can harm plants and grass around your premises.
Magnesium Chloride 
Magnesium chloride is considered environmentally friendly and safer to use around pets than most other chemicals. It reduces the freezing point of water to -13 degrees Fahrenheit. The disadvantage is that it may harm your concrete, asphalt, or plants. Hence, you cannot use this product in parking areas and walkways.
Calcium Magnesium Acetate
This ice melt is free from chloride and is less corrosive. However, it only works at temperatures over 20 degrees Fahrenheit and can also make your pavements slippery and prone to slip and fall accidents.
Rock Salt
Rock salt is convenient because it is inexpensive. Yet it has several drawbacks: It's harmful to almost any surface, deadly to pets if they consume it, and it doesn't operate in cold temperatures. Moreover, it can also harm your concrete and machinery by causing rusting.
Crystalline amid core with glycol
A modified crystalline amide core is combined with a unique glycol admixture and traction ingredients in this patented dual-effect compound. It is non-conductive and non-corrosive. There will be no harm to delicate machinery, and there will be no danger of short circuits. It has a long shelf life making it a suitable option for business.
These crystals provide traction and give a protective shield to your surface, making shoveling an easy task.
Conclusion
The lovely white covering of snow may appear beautiful, but it can create fatal mishaps.
The best way to tackle this winter anxiety is to find an ice-melting solution that is 100% property safe. Go for an ice melt that is chloride-free to prevent corrosion and safeguard your pavement and machinery. 
Get ready for winter with the ONLY Salt And Chloride Free Ice Melt you can trust
Other Ice Melt Products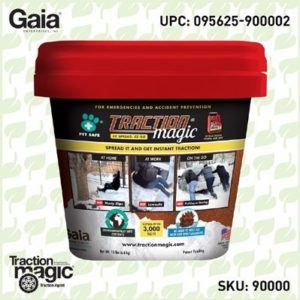 Traction Magic
Stay safe on slippery surfaces with a product that's 100% natural and safe for pets, people, and your property. Use Traction Magic on sidewalks, steps, or as instant traction for your car. Traction Magic provides instant traction on all icy surfaces.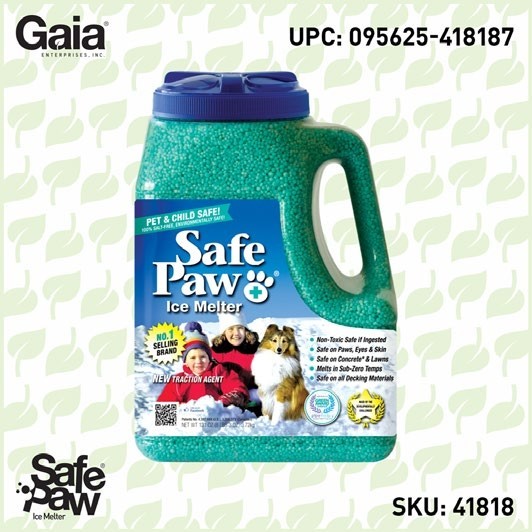 Safe Paw
Imagine an ice melt you can put down and never worry about. It won't harm animals or children, and it won't damage your property. That's Safe Paw. Unlike anything else on the market, Safe Paw can change how winter affects our planet.