Apply This On The Porous Brick Porch To Get Rid Of Snow Easily
The beauty of outdoor walks appears gorgeous, but it can be risky also due to the slippery treacherous layer of ice in winter. You may already be aware that salt is harmful to brick and concrete. You may have also heard of fertilizer being used to thaw the ice. You can remove ice with the Safe Paw ice melter without injuring the porch bricks or shortening their lifespan. It is simple to physically clear snow on an accurately laid-out brickwork. But shoveling or using a snow blower is difficult in the case of faulty installations, the presence of tree roots, or an uneven track owing to expansion or contraction of the underlying soil. The urge to deploy ice melt grows in such a situation.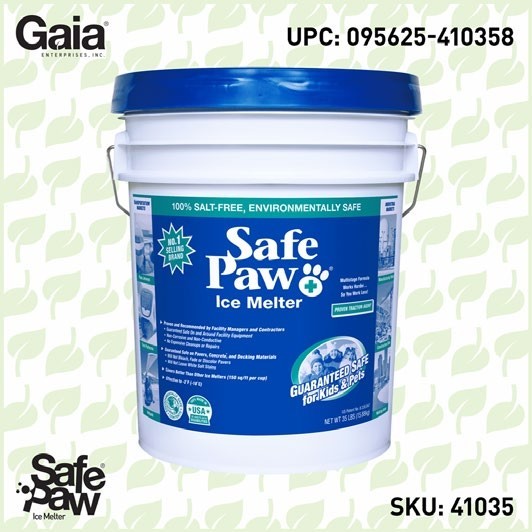 Safe Paw
The Original and the #1 Pet and Child Safe Ice Melt for over 20 years. Guaranteed environmentally safe – will not harm waterways and sensitive wetlands.
Commonly Used Ice Melt Include:-
This salt is similar to what you'd find on the table at home or in a restaurant. This salt damages both physical structures and materials, as well as the ecosystem. It should not be used on concrete, as it can cause damage to both old and new concrete, as well as asphalt, stone, and brick. Sodium Chloride can contaminate soil and harm grass and plants.
Magnesium chloride is used to melt ice in liquid form. Magnesium chloride is a low-cost ice melt that releases heat as it dissolves gradually. It is ideal for fighting snow and ice. Excessive use of magnesium chloride is harmful to plants and pets. It corrodes metals and absorbs moisture from the air.
It is applied in liquid form on icy roads. It is more effective and has a lower environmental impact than sodium chloride, but it is also more expensive. Is calcium chloride safe for pets, as many people wonder? It can cause tongue and throat burning. Also, increased thirst, vomiting, and stomach pain in pets. If not handled with appropriate gloves and handwashing, the chemical can irritate the skin and eyes.
Get ready for winter with the ONLY Pet Safe Ice Melt you can trust
Is There Any Ice Melt That I Can Use On Bricks That Is Safe?
Yes, they do exist. Safe Paw is a non-chloride, concrete ice melt that is non-toxic, pet-friendly, and non-corrosive on the market. Safe Paws ice melt reviews show that these ice melts are safe to use on bricks. Safe Paw is the ideal ice melt for the driveway because they also serve as a pre-treatment. For up to three days, some ice melt can keep ice from clinging to surfaces, making it easier to clean the snow afterward. This ice melt does not induce efflorescence or leave crystal deposits because it is chloride- and salt-free. Plants, vegetation, and pets are also unaffected. SafePaw is an environment-friendly ice melter which you can rely on.
Bricks are used for pathways, patios, and even roadways. Choosing the ice melt for a driveway might help it last longer. It will increase the lifespan of the brick. So seek an ice melt that will keep melted ice liquid for a long period. It means that ice melt will not refreeze, stopping the freeze-thaw cycle from occurring.
Get ready for winter with the ONLY Pet Safe Ice Melt you can trust
Other Ice Melt Products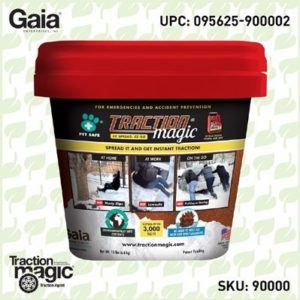 Traction Magic
Stay safe on slippery surfaces with a product that's 100% natural and safe for pets, people, and your property. Use Traction Magic on sidewalks, steps, or as instant traction for your car. Traction Magic provides instant traction on all icy surfaces.
Safe Thaw
Imagine an ice melt you can put down and never worry about. It won't harm animals or children, and it won't damage your property. That's Safe Thaw. Unlike anything else on the market, Safe Thaw can change how winter affects our planet.