5 Environmentally Friendly Ways To Melt Ice In Utah This Winter
The National Oceanic and Atmospheric Administration (NOAA) has predicted drier and warmer conditions for the Southern part of the United States and cool and wetter conditions for the Pacific Northwest and upper midwest. Southern Utah is expected to have drier weather and below-normal precipitation.
The Farmer's Almanac predicts that snowfall will be near normal, with the snowiest periods in early and late December, late January, and late February. Winter temperatures and precipitation will be slightly below normal, on average.
The velvet-white carpet of snow looks beautiful, but it can take a toll on your driveway, rooftop, vehicles, etc. Moreover, choosing the wrong ice melt can also damage your surroundings, and so, you need to take measures to prevent such situations.
A recent study suggests that salt concentrations in many U.S. lakes would fall outside the bounds necessary for healthy aquatic plants, animals, and microorganisms by 2050. Since the residue of ice melt and rock salt from the cities flows straight into the lakes and water bodies, it's impossible to remove. The chloride in ice melt is not only harmful to the aquatic life but can hurt your pet's paws as well.
In this article, we will discuss five environmentally friendly ways to melt ice in Utah this winter.
Safe Ice Melt For Pets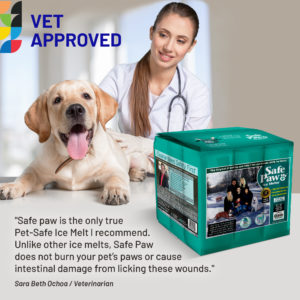 Safe Paw
The Original and the #1 Pet and Child Safe Ice Melt for over 20 years. Guaranteed environmentally safe – will not harm waterways and sensitive wetlands.
5 Environmentally Friendly Ways To Melt Ice
1- Shoveling
One of the most conventional ways of cleaning snow is our good old shoveling. Shoveling away the snow on driveways, sidewalks, and pavements may sound a little old school, but it is one of the most popular and harmless ways to protect your concrete surfaces, rooftops, etc. Unlike rock salt and chemical ice melt, it doesn't harm your pets and vegetation. However, it can be a tiring exercise and dangerous for the heart because it increases heart rate and blood pressure.
2- Use environmentally friendly ice melt
Always use an environmentally friendly ice melt. Common ice melting salts burn the paws of our four-legged friends. They may also corrode the driveways and pathways. Fortunately, there are safe, non-toxic, and chemical-free ice melt solutions available in the market to make your winters safe and unpolluted.
Using a salt-free ice mel composed of natural ingredients is the best way to clear the snow without damaging your concrete, rooftop, and plants. They are 100% safe to use around kids and pets too.
3- Add some traction
Another way to deal with snow on your driveway, rooftop, and sidewalks without harming your pets and plants is by adding traction. A good traction agent adds friction to the surface immediately so that you can cross the slippery layer of ice without the fear of fall.
You may use gravel, kitty litter, etc to add traction, but they create a lot of mess. An alternative to this is to use a good traction agent. Traction agents are hassle-free to use and more effective than other methods.
---
Weather Forecast
---
4- Don't wait
Clean the snow frequently so that it does not pile up and turn icy later. It's easy to shovel away soft and fluffy snow.
5- Fill the cracks
Find cracks and cervices on the surface and patch them up. A flexible sealant can do the job. Do it before the snow hits the ground.
---
Other Products
---