5 Best Products To Protect Your Roof From Ice Dams
Have you noticed large icicles forming on your roof's eaves? It could indicate that your roof is vulnerable to ice dams and the damage that they cause. However, most homes' structural and architectural limitations make it impossible to improve roof venting and insulation to the point where ice dams are no longer a problem. This is why there are so many different ice dam prevention products, and ice melts for roofs available, both cheap and expensive. Here are the most effective, tried-and-true products for removing or reducing ice dams.
Roof Safe Ice Melt
1-Remove Accumulated Snow Using A Rake
The goal here is to remove as much snow as possible without damaging the shingles. It has two rollers on the bottom edge. Also, a plastic sheet to help snow slide off the roof quickly and without damaging the shingles when removed.
2-Ice Melt Socks
Ice Melt Socks are quick and simple to make. They usually do not necessitate the hiring of an electrician or a roofer. All you'll need are some supplies and a ladder with a stabilizer bar to reach your roof. Next, climb to the roof and place ice melt socks vertically, one end in the gutter and the other up the roof slopes, with 3 feet between them.
Get ready for winter with the ONLY Pet Safe Ice Melt you can trust
3-Heat Cable For The Roof
When installing a roof heat cable, read the installation manual, go through the ice melt comparison chart and watch some YouTube videos to learn how to do it correctly and safely. As a result, you may require the services of a roofer or an electrician. If you're doing it yourself, make sure the roof is clear of snow. Use a ladder with a stabilizer bar. Also, be careful not to create a short circuit.
Get ready for winter with the ONLY Pet Safe Ice Melt you can trust
4-Incorporate Blown-In Insulation.
Eliminating the primary cause of ice dams heat loss in your attic is the best way to get rid of them. You'll also save money on heating and cooling by making your home more energy-efficient. Adding blown-in insulation is the simplest way to achieve this.
Get ready for winter with the ONLY Pet Safe Ice Melt you can trust
5-Using Icemelt As A Tool
Before a storm, lay down a thin layer, then another light layer during the storm. As snow falls, the salt dissolves in the water, making it easier to shovel or otherwise remove the snow and ice. It's not fairy dust, which is sprinkled on top of the snow to make it vanish. Safe Paw is a nontoxic snow and ice melter that provides a natural, safe ice melt. The ice melt comparison chart states that ice melt is the top tool for removing snow from your roof before it melts and freezes along the eaves.
Conclusion
If water gets into the house, problems with an ice dam roof can range from torn gutters and falling shingles to peeling paint, ruined flooring, and stained ceilings. To avoid these problems, use ice melts for roofs as it's critical to concentrate on ice dam prevention. As a result, the best way to eliminate all ice dam issues and ensure that they never recur.
Gaia Enterprises Inc. delivers 100% pet-safe and environmentally friendly winter products. Safe Paw, our flagship product, is the #1 selling pet-safe ice melt that does not harm pets, safe if ingested, and safe on all types of concrete.
Other Ice Melt Products
Safe Thaw
Imagine an ice melt you can put down and never worry about. It won't harm pets, kids and your property. That's Safe Thaw. Unlike anything else on the market, Safe Thaw can change how winter affects our planet.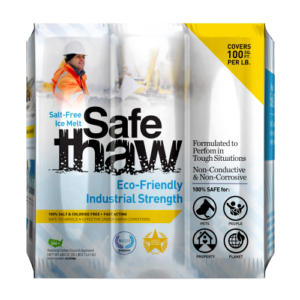 Traction Magic
Stay safe on slippery surfaces with a product that's 100% natural and safe for pets, people, and your property. Use Traction Magic on sidewalks, steps, or as instant traction for your car.