When And How To Apply Ice Melt: Insider Tips
October is here already, and so is the winter season. Yes, Santa is on his way to your house.
While preparing for the festivals, don't forget to prepare for the snow and ice coming along. After all, the safety of you and your family comes above all.
So before the winters come here wholly, make sure you're ready with all the supplies you need to tackle winters like a pro. That's how you and your family will enjoy the winters wholeheartedly.
Eco Friendly Ice Melt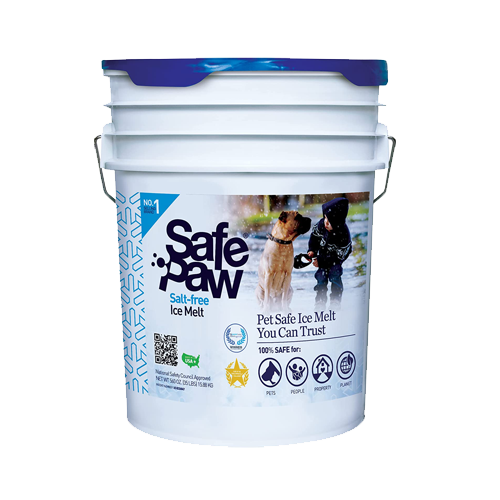 Safe Paw
The Original and the #1 Pet and Child Safe Ice Melt for over 20 years. Guaranteed environmentally safe – will not harm waterways and sensitive wetlands.
Now here are some insider tips that would work alongside your supplies.
Tip 01: Start Before It's Too Late.
Don't be someone who waits for the snowfall and then starts preparing to melt the snow. Start the arrangements early so that you're well prepared before it's too late to start the preparations. When you start early, you get the chance to treat the surface early. The advantage of treating the surfaces beforehand is that you will save your product in the long run because it prevents the ice from bonding to the surface. This, in turn, helps you stop the unnecessary wastage of the product and save money.
Get ready for winter with the ONLY Pet Safe Ice Melt you can trust
Tip 02: Choose Your Ice Melt Wisely
While the primary job of an ice melt is to melt the ice, not all the ice melts are the same. You need to be cautious while choosing your ice melt. This is because the wrong ice melt can have consequences and affect concrete, pets, children, and sometimes even grown-ups. There are many ice melt alternatives but choose the one that is 100% safe for you as well as the environment.
Gaia Enterprises Inc. delivers 100% pet-safe and environmentally friendly winter products. Safe Paw, our flagship product, is the #1 selling pet-safe ice melt that does not harm pets, safe if ingested, and safe on all types of concrete.
Safe Paw is one of the best ice melts out there, which doesn't come with any side effects and is highly effective when it comes to melting the ice around you.
Get ready for winter with the ONLY Pet Safe Ice Melt you can trust
Tip 03: Apply It In The Right Way
It's important to read all the instructions mentioned in your ice melt. If you don't read it, you might overuse it or underuse it. Also, make sure that you use it correctly because all the ice melts are different, and so are their using methods. For example, if you use a product that consists of calcium or magnesium chloride, you'll need to cover your hand before applying as they can be harmful to your skin. However, using a product that consists of Ammonium Nitrate, Calcium Sulfate, Aluminum Chloride, Magnesium Chloride, Sodium Cyanide, etc., isn't recommended as they can be harmful to you and the environment. Safe Paw is a urea ice melt that is entirely safe to use.
Get ready for winter with the ONLY Pet Safe Ice Melt you can trust
To Conclude-
These were the three essential tips that anyone needs to know about before using an ice melt. The right ice melt can be expensive than the normal ones, but it is way more beneficial in the long run. So before your choose, an ice melt alternative, make sure that the product is entirely safe for you, your family, and the environment as well.
Other Ice Melt Products
Safe Thaw
Imagine an ice melt you can put down and never worry about. It won't harm pets, kids and your property. That's Safe Thaw. Unlike anything else on the market, Safe Thaw can change how winter affects our planet.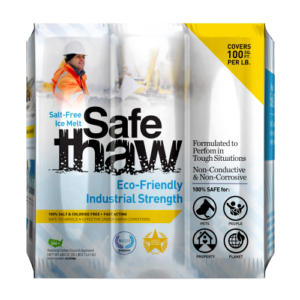 Traction Magic
Stay safe on slippery surfaces with a product that's 100% natural and safe for pets, people, and your property. Use Traction Magic on sidewalks, steps, or as instant traction for your car.