Looking For Pet-Safe Ice Melt In Montreal?
According to Brett Anderson, Senior Meteorologist at AccuWeather, La Nina will play a prominent role in the general weather pattern across North America – and it means some milder temperatures with plenty of snow for the Southern Quebec area. There will be cold outbreaks and a mixed bag of precipitation (snow, rain, and ice) from Ottawa to Montreal and Quebec City.
If you're a snow lover, it's good news for you. But if you're also a pet owner, then you might be worried about protecting your pet from the hazards of snow and ice melt.
Pet Friendly Ice Melt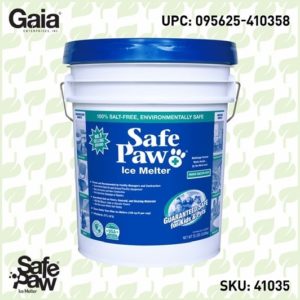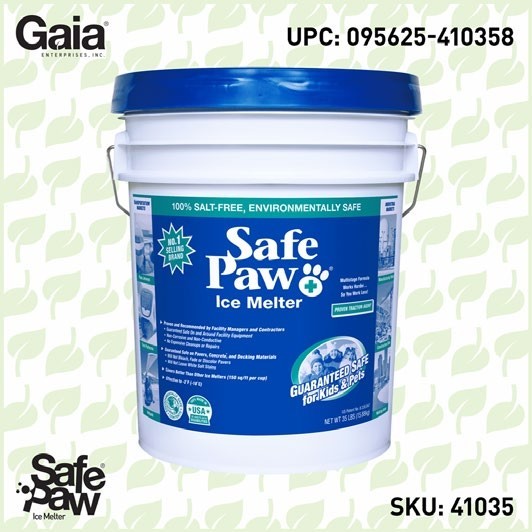 Safe Paw
The Original and the #1 Pet and Child Safe Ice Melt for over 20 years. Guaranteed environmentally safe – will not harm waterways and sensitive wetlands.
Here Are Some Of The Common Problems Due To Snow And Ice Melt That Pets Face In Winter –
1. Ingestion Of Ice Melt –
Antifreeze is not safe to use around pets since they all contain chloride. Apart from rock salt, many brands use magnesium chloride, calcium chloride, or potassium chloride. Not only does it contain harmful chemicals, but it is also sweet and therefore very tempting for pets. Sadly, pets can be affected by rock salt even if they don't ingest it.
These chloride-based products may cause problems like skin irritation, eyes, nose and lung burning, and nausea if ingested.
Some companies falsely claim themselves pet safe. What they do is they round off the sharp edges of the salt and call their ice melt pet friendly. However, the main ingredient in such ice melt is still chloride. The so-called 'pet-friendly ice melt may not be sharp on your pet's paw but can cause serious winter pet emergencies due to their toxic nature.
2. Burning Of Paw And Skin Irritation –
Even though you might be using a pet-friendly ice melter, your neighbors and municipality may not be using the same on the street and nearby areas. The streets may still be coated with deicers containing rock salt and other chlorides. Although these deicers make the sidewalks safe for us, they are very dangerous for our pets and can also harm their paw pads. Every time your pet is back from the walk, wash their feet with warm water and dry with a towel.
---
Weather Forcast
---
3. Frostbite –
In extreme winter conditions, symptoms of hypothermia and frostbite could be seen in many dogs. Hypothermia is a condition when the body temperature falls considerably. Its symptoms are- paleness of skin, shivering, and listlessness to the point of lethargy.
Dogs can suffer frostbites on their delicate earflaps and tail tips.
Only a few heavy-coated northern breeds can tolerate such low temperatures. Otherwise, it's a good idea to keep your dog indoors. Keep an eye out for symptoms like redness or swelling.
Therefore, a lot depends on the ingredient of your ice melt. If you're a concerned pet-owner, you should choose a pet-friendly ice melter that is-
100% pet-safe and will not burn their paws or poison the pet if ingested
salt-free, chlorine-free, and acetate-free formula
completely safe for pets, kids, and the environment
---
Other Products
Traction Magic
Stay safe on slippery surfaces with a product that's 100% natural and safe for pets, people, and your property. Use Traction Magic on sidewalks, steps, or as instant traction for your car. Made in the USA.
Safe Thaw
Imagine an ice melt you can put down and never worry about. It won't harm animals or children, and it won't damage your property. That's Safe Thaw. Unlike anything else on the market, Safe Thaw can change how winter affects our planet.
---