Are You Prepared For The Next Blizzard?
Snowfall can range from a light snowfall to a multi-day blizzard. Cold temperatures, powerful gusts, ice, sleet, and freezing rain are all features of winter storms.
As the winter season approaches, homeowners should begin taking precautions to safeguard their families and visitors from the perils of winter.
Winter weather can be unexpected. You must be prepared with the right tools and techniques to handle any situation. Often, people resort to using shovels to clear the snow. But in the case of a blizzard, a shovel may not help you much. Even though it seems to be an easy job, it needs years of experience to learn how to remove snow with a shovel without draining the energy out of you.
We might not be able to provide you with the experience, but we can definitely provide you with some quick hacks to deal with a blizzard in this article.
Remove The Snow Frequently
When a winter storm occurs, the most immediate maintenance need is snow and ice removal. Even a few inches of snow accumulating outside your home can be inconvenient at best and dangerous at worst. A more severe winter storm can exacerbate the problem, making ice and snow removal even more critical.
Get ready for winter with the ONLY Pet Safe Ice Melt you can trust
Choose The Right Ice Melt
One of the biggest dangers to your property in the winter can be snow and ice. Whenever a storm hits, the building gets covered in snow, resulting in several problems. For example, cars can slip in the driveway and can cause serious accidents.
So what to do?
Get ready with an ice melt to help you melt the ice and keep yourself and the people around you safe. However, not all ice melts are the same, and some come with their own set of drawbacks. For instance, some ice melts can be very harmful to concrete.
Eco Safe Ice Melt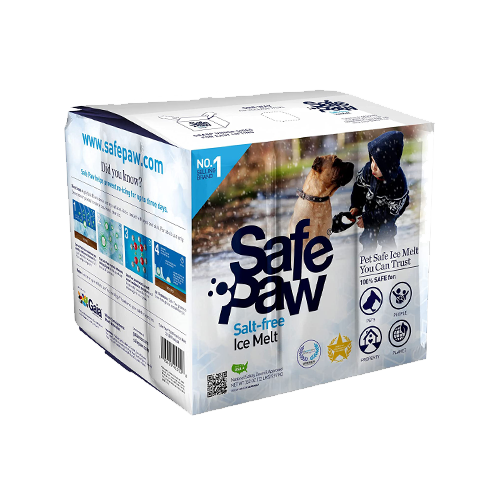 Safe Paw
The Original and the #1 Pet and Child Safe Ice Melt for over 20 years. Guaranteed environmentally safe – will not harm waterways and sensitive wetlands.
For example, Calcium, magnesium, or potassium chloride ice melt products. Similarly, if you're searching for safe step ice melt reviews on the internet, read on.
Your family and visitors are put at risk when snow is not removed. It shows you care about their well-being when you clear the parking lot and pathways. The best way to combat snow is an effective ice melt. Your ice melt needs to be non-corrosive, non-conductive, and should have a long-lasting effect. If you're reading safe step ice melt reviews, you'll notice that Safe Paw not only melts the ice faster but is also environmentally friendly and safe for pets.
Get ready for winter with the ONLY Pet Safe Ice Melt you can trust
Resolve The Threats
Any potential flaws that could lead to damage should be carefully monitored.
It's critical to pay attention to the structural integrity of your house and seek weak spots that could lead to damage. Even if your structure appears to be in good condition now, consider what could happen if high winds, heavy snow, ice, or sleet hit. These severe weather conditions may cause damage to your house if it has vulnerabilities.
Get ready for winter with the ONLY Pet Safe Ice Melt you can trust
Conclusion
Winter storms can have a significant impact on your property and health. When the weather outside is threatening, you need a salt-free, natural, paw-safe ice melt that you can rely on to melt ice and snow and keep yourself safe.
Gaia Enterprises Inc. delivers 100% pet-safe and environmentally friendly winter products. Safe Paw, our flagship product, is the #1 selling pet-safe ice melt that does not harm pets, safe if ingested, and safe on all types of concrete.
Other Ice Melt Products
Safe Thaw
Imagine an ice melt you can put down and never worry about. It won't harm pets, kids and your property. That's Safe Thaw. Unlike anything else on the market, Safe Thaw can change how winter affects our planet.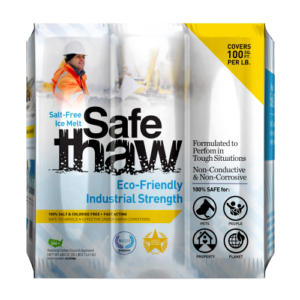 Traction Magic
Stay safe on slippery surfaces with a product that's 100% natural and safe for pets, people, and your property. Use Traction Magic on sidewalks, steps, or as instant traction for your car.