Prepare Your House For The Winter Storm
Winter weather can be harsh, resulting in a higher energy load in your home. Preparing your home for winter can save you time and money by avoiding the hassles of dealing with snow hazards, keeping you safe and warm during storms, and allowing you to save energy. Protect your home from the effects of a blizzard or other severe winter weather by ensuring that the exterior of your home can withstand the storm's long-term effects. Using ice melter for roof will save you money in the long run. When snow or freezing rain falls, the weight of the snow or freezing rain can cause future damage.
Wet snowfall on your roof can weaken the structure and cause cave-ins.
Snow can weigh down tree branches, causing them to fall on your house, vehicle, or people.
Roof leaks and cave-ins can be caused by ice dams in gutters.
Winterizing Your Home Checklist
Winter storms are rare occurrences, but the severity of winter weather persists throughout the season, necessitating the use of winter heating for your comfort and safety. This also means that conserving home energy and lowering winter costs are usually top priorities for your family. This checklist will provide you with a few projects: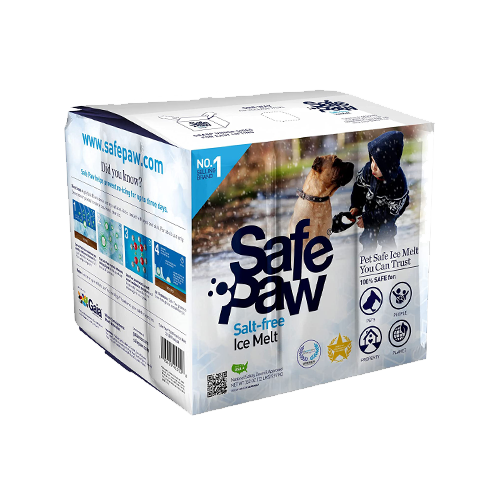 Safe Paw
The Original and the #1 Pet and Child Safe Ice Melt for over 20 years. Guaranteed environmentally safe – will not harm waterways and sensitive wetlands.
1-Layers Of Warmth.
Prepare for a blizzard or freezing temperatures by stocking up on sleeping bags, warm blankets, and warm clothing in case of a power outage.
2-A Generator
Using a generator to help with winter heating and keep appliances running during a winter storm blackout is a good idea, but make sure you use it safely. Running a generator inside is never a good idea. Keep your generator outside, at least 20 feet away from your house, to avoid carbon monoxide poisoning.
3-Snow Removal Equipment Is Available.
To prepare your home for winter, you'll need supplies like a metal snow shovel (plastic is too flimsy for heavy snowfall), an ice scraper and a snow brush for your car's windshield and windows, and snow removal salt to sprinkle on your sidewalk and driveway to melt ice. Salt and similar compounds should be used with caution because too much can poison the soil, damage vulnerable cement, and some are poisonous to pets.
Get ready for winter with the ONLY Pet Safe Ice Melt you can trust
Safe Paw is a salt-free, non-toxic product that is also good for the environment. It has a wider range of applications than other salt-based ice melters. If you are thinking where can I buy safe paw ice melter? Then, the best method to buy is to order online or pick directly from the nearby store. Safe Paw ice melt can be used safely anywhere without concern.
Get ready for winter with the ONLY Pet Safe Ice Melt you can trust
Wrapping Up
Winter preparation starts long before the first snowflake falls. Overgrown bushes and shrubs may also require trimming, particularly if they are isolated and subjected to the full force of the wind. If a winter storm completely shuts down the city, make sure you have enough emergency supplies on hand. If anyone in your home is treating a long-term condition, you may also want to stock up on important medications.
Gaia Enterprises Inc. delivers 100% pet-safe and environmentally friendly winter products. Safe Paw, our flagship product, is the #1 selling pet-safe ice melt that does not harm pets, safe if ingested, and safe on all types of concrete.
Tip-Consider buying a safe paw,non-salt ice melter for roof and another surface. Safe Paw Ice Melter is a time-released ice melter that is safe for pets, children, concrete, brick, and stone.
Get ready for winter with the ONLY Pet Safe Ice Melt you can trust
Other Ice Melt Products
Traction Magic
Stay safe on slippery surfaces with a product that's 100% natural and safe for pets, people, and your property. Use Traction Magic on sidewalks, steps, or as instant traction for your car.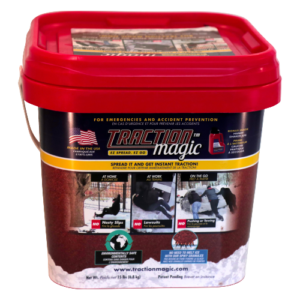 Safe Thaw
Imagine an ice melt you can put down and never worry about. It won't harm pets, kids and your property. That's Safe Thaw. Unlike anything else on the market, Safe Thaw can change how winter affects our planet.