3 Things To Keep In Mind Before Investing In A Roof Snow Melt
Winters can get dreadful if you don't have the right equipment to deal with all that follows. Excessive snow, or layer of ice beneath it, and even the never-ending cycle of slipping and falling, can make your winters quite wistful. People are looking for easier and simpler ways of addressing the issue without any extra damages arising.
Protecting roofs from the snow is one of the biggest challenges in winter. In this article, we will discuss how you can protect your rooftop from any damages.
Use The Best Ice Melt
You need a salt-free ice melter that is devoid of chloride, acetate, and toxins so that your rooftop is safe. One such product is Safe paw.
Safe Paw is a salt-free ice melter that has a modified crystal compound that has a dual effect when used. It melts the ice and also provides adequate protection for your roof for over three days. It also contains a special mixture of glycol. Safe Paw is also salt-free, and safety of use is guaranteed.
Safe Paw does not cause any harm to any material, whether concrete or brick, making it a practical and budget-friendly investment.
Ice Melt For Roofs
Safe Paw
The Original and the #1 Pet and Child Safe Ice Melt for over 20 years. Guaranteed environmentally safe – will not harm waterways and sensitive wetlands.
Check For Ice Dams
Adding insulation to your attic, the roof warms up, and the snow starts to melt. When the melted snow reaches the edges, it refreezes as the edges are not warm. As the hard edges restrict the melted snow from sliding down the roof, and the melted snow keeps collecting on your roof. These are called ice dams, and they can be very damaging to homes.
There are several ways to get rid of ice dams such as-
Hose the ice dams on a warm day with tap water to see the ice melt and flow down. 
Fix all cracks and crevices on the roof and around the edges of the house to avoid any seepage. 
Insulate the attic and roof all around to avoid ice accumulation around. 
shovel or plow to remove the ice formation or excessive snow. 
Provide natural ventilation to your attic and home to prevent moisture from accumulating. 
Install affordable insulation systems or roof-safe ice melt to avoid costly repairs caused due to water leakage or leaking roofs. 
Get ready for winter with the ONLY Pet Safe Ice Melt you can trust
Apply Properly
You have to be prudent in applying roof ice melt solutions. There are high chances of corroding the shingles if the ice melt is not used properly. 
For example, rock salt may not harm the asphalt shingles as much, but it will rust the nails used to keep them in place. So instead, Safe Paw is the best ice melt for the roof because it comprises 100% environment-friendly materials that are pet safe and kid-safe. You need to use only ½ the quantity of rock salt but with triple the effectiveness. 
Get ready for winter with the ONLY Pet Safe Ice Melt you can trust
Other Ice Melt Products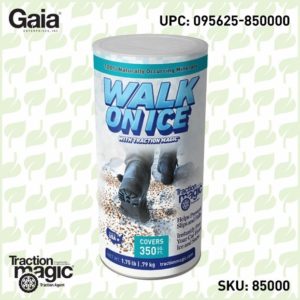 Walk On Ice
Walk On Ice safely in Winter, with the latest addition to the Traction Magic collection. The handy disposable canister can be taken everywhere with the same 100% naturally occurring minerals that provide instant traction on ice or snow.
Safe Thaw
Imagine an ice melt you can put down and never worry about. It won't harm animals or children, and it won't damage your property. That's Safe Thaw. Unlike anything else on the market, Safe Thaw can change how winter affects our planet.