Why Safe Paw Is The Best Ice Melt In The Market
Maintaining your driveway and walkways clear of ice and snow can be difficult if you live in a location with freezing temperatures. Furthermore, many ice melt solutions have the potential to damage even the most resistant concrete surface. You do, however, have choices for keeping your driveway looking wonderful all winter.
There are products labeled as concrete-safe ice melt. But if you check the ingredients, you will notice chloride as the main constituent. The chloride-based ice melts are highly corrosive and toxic. So, which is the best ice melt in the market? The best ice melt is the one that is safe for all and effective while being concrete safe ice melt. That brings us to the answer to all our winter woes, Safe Paw ice melt solution.
Why Is Safe Paw The Best Ice Melt?
Most of the ice melts available in the market consist of chlorides in one form or the other. Rock salt is troublesome for a variety of reasons. It may damage almost any surface, it can be fatal if ingested by pets, and it doesn't work in cold temperatures. Potassium chloride is safer for pets, but it is harmful to plants and grass. Temperatures of 20 degrees Fahrenheit and above are required for calcium magnesium acetate to work. If you apply too much calcium chloride, it can harm your plants and grass. Magnesium chloride can also damage your plants, concrete, and asphalt.
Get ready for winter with the ONLY Pet Safe Ice Melt you can trust
So, the best option is a salt-free and natural ice melt, like Safe Paw. It is a proprietary compound with dual effects. It decreases the surface tension of ice. And, it also fastens the melting process. Then the crystal core starts penetrating the ice. It further weakens the ice, thus speeding up the melting process.
Get ready for winter with the ONLY Pet Safe Ice Melt you can trust
Pet Friendly Ice Melt
Safe Paw's chemical-free formula includes a specific traction component. This agent works in tandem with the melting components to ensure that you're left with only dry ground and no leftover snow. As a result, the risk of slips and falls is decreased.
People, pets and the environment are safe with this modified crystalline amide core interleaved with glycol admixture. It leaves an invisible layer of protection for three days that helps prevent ice from sticking to surfaces. It is easier to shovel because of the "Teflon" effect.
This ice melt won't affect your carpets, concrete, pavement, railings, or other constructions. It is non-corrosive and will neither damage your concrete nor metal. This concrete safe ice melt is fit for even new concrete.
It doesn't leave a sticky residue behind and won't burn your pets' paws. It does not pollute water resources, unlike salt, and is environmentally friendly.
Conclusion
Regardless of your attempts, ice manages to find its way onto your driveway and walkways. Keeping your premises free of slippery ice can also protect you from slip-and-fall litigation. Snow and ice melters are an essential component of winter management. The best way to remove snow without any damage is no longer a dream. You can enjoy safe and slip-free winters by using Safe Paw, the best ice melt in the market.
Gaia Enterprises Inc. delivers 100% pet-safe and environmentally friendly winter products. Safe Paw, our flagship product, is the #1 selling pet-safe ice melt that does not harm pets, safe if ingested, and safe on all types of concrete.
Other Ice Melt Products
Safe Thaw
Imagine an ice melt you can put down and never worry about. It won't harm pets, kids and your property. That's Safe Thaw. Unlike anything else on the market, Safe Thaw can change how winter affects our planet.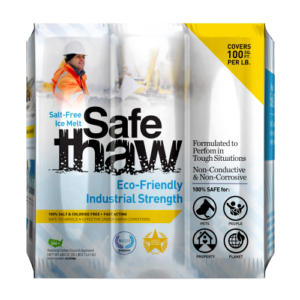 Traction Magic
Stay safe on slippery surfaces with a product that's 100% natural and safe for pets, people, and your property. Use Traction Magic on sidewalks, steps, or as instant traction for your car.