How To Prevent Ice Dams: 5 Best Strategies
A particularly harsh winter can cause significant damage to the roof, and an aging roof and gutter system may not be able to withstand the onslaught of ice and snow. Ice dams are ice chunks that form along the roof's side. When the weather warms up, they'll melt into pools of water on the roof, seeping beneath the shingles and into the walls and ceilings. The best way to avoid ice dams and their side effects is by using ice melters for roofs.
Here Are 5 Best Strategies To Prevent Ice Dams:
1. Maintain The Cleanliness Of Your Gutters.
Keeping your gutters free of material such as twigs and leaves is a simple technique to avoid ice dams building on your roof during the winter. To avoid the formation of ice dams, make sure there is a place for melting snow to flow off your roof.
2. Purchase A Snow Rake
Investing in a snow rake is a simple way to preserve your roof and prevent ice dams from forming. Snow rakes have a flat head and a long handle (some have extensions), allowing you to clear snow from your roof while staying on the ground. But it may damage your roof if not used correctly.
Ice Melt Safe For Roofs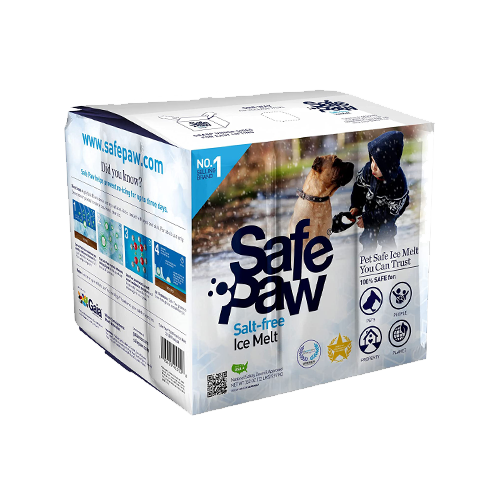 Safe Paw
The Original and the #1 Pet and Child Safe Ice Melt for over 20 years. Guaranteed environmentally safe – will not harm waterways and sensitive wetlands.
3. Use A Roof Safe Ice Melt
Ice melt products, as their name implies, melt ice in a relatively short amount of time. Rock salt, which runs off your roof and damages shingles, landscaping, and concrete, should be avoided. You can use a natural ice melt that is chloride-free and non-corrosive to remove snow.
Climbing onto your roof to apply ice melt carries a risk of injury. As a result, you might want to consider utilizing ice melt pills that are easy to toss to keep your feet on the ground.
If you are thinking about how to make an ice melter at home, there are many ways of doing it. You can use kitty litter, sand, table salt, coffee grounds, or beetroot juice. But none of these methods is as effective as a safe, salt-free, and natural ice melt.
Get ready for winter with the ONLY Pet Safe Ice Melt you can trust
4. Make Sure Your Attic Is Well Ventilated
When it comes to maintaining your roof throughout the winter, making sure your attic is well ventilated is critical. Allowing natural ventilation of external air into your attic will keep it cool and prevent ice jams from forming.
Gaia Enterprises Inc. delivers 100% pet-safe and environmentally friendly winter products. Safe Paw, our flagship product, is the #1 selling pet-safe ice melt that does not harm pets, safe if ingested, and safe on all types of concrete.
5. Heat Cables
Heat wires are a convenient solution for ice dam problem locations, such as valleys. Once the ice dams have formed, simply switch on the cables to melt them away. Yes, it will cost you more because the installation requires more care and attention. After all, fasteners, adhesives, and localized heat can all harm a roof system.
Get ready for winter with the ONLY Pet Safe Ice Melt you can trust
Conclusion
Salt-free ice melt is the most effective approach to eliminate ice dams. Long-term ice dam prevention can often be as simple as improving attic insulation and ventilation. But when winter arrives, be ready with a natural ice melt to avoid ice dams on your roofs. How to make ice melter effectively work on your ice dams is no rocket science. You only need to spread your non-corrosive, pellet ice melt on your roof and let it do the magic.
Get ready for winter with the ONLY Pet Safe Ice Melt you can trust
Other Ice Melt Products
Safe Thaw
Imagine an ice melt you can put down and never worry about. It won't harm pets, kids and your property. That's Safe Thaw. Unlike anything else on the market, Safe Thaw can change how winter affects our planet.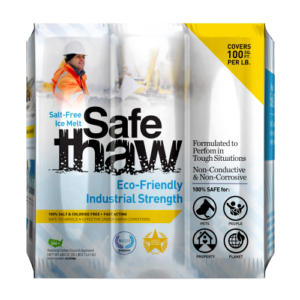 Traction Magic
Stay safe on slippery surfaces with a product that's 100% natural and safe for pets, people, and your property. Use Traction Magic on sidewalks, steps, or as instant traction for your car.