Here's How To Prepare Your Driveway This Winter In Denver
Since La Nina is well established now and going to stay, Denver is expected to get more snow this year. On deducing the impact of La Nina on the weather over the years, it has been found that Colorado ends up receiving a drier than normal winter. The past trend also shows that a below-average snowfall season can be expected. But according to Farmer's Almanac, Colorado will get more than enough snow this winter. So, we should be prepared to tackle this unexpected snowfall and melt the ice from our driveways safely and effectively.
According to the Farmers' Almanac Extended Forecast for Winter 2020-2021, it will be a chilly and snowy winter for Denver. The Almanac also predicts above-normal snowfall in northern portions of Colorado.
Safe Ice Melt On Driveway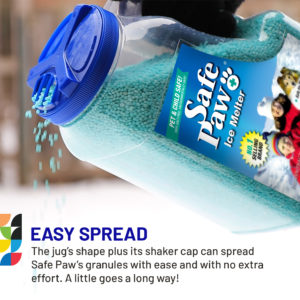 Safe Paw
The Original and the #1 Pet and Child Safe Ice Melt for over 20 years. Guaranteed environmentally safe – will not harm waterways and sensitive wetlands.
5 Tips To Prepare Your Driveway For Winter
1- Don't Wait Till The Eleventh Hour
The best time to use your ice melt is before the first snow of the season falls. Ice melt is much more effective if the surfaces are treated beforehand, so you don't need a large quantity of the product later as it prevents ice from bonding to the surface. Some ice melt can prevent ice from sticking to surfaces for up to three days of using it, making your work much easier later.
2- Find And Seal All Cracks And Holes
Any cracks in your driveway will get even worse when it snows. Therefore, it is a good idea to check your driveway for any cracks, broken tiles, seepages, etc., before the snow hits the floor.
When the ice melt works on the snow and melts it, it seeps in the concrete of your driveway through the hole and cracks. And when the temperature falls, the seeped-in water refreezes.
The frozen water exerts pressure and expands the crevices and the holes, making it bigger. So it is advised to seal the cracks in your driveway before the snow can cause any more damages.
3- Use A Good Ice Melt On The Driveway
You may have heard that rock salt does the job. Yes, but not in the best way. Here's why. Rock salt is sodium chloride. Most of the ice melt is also composed of chloride in one form or the other. Chloride products react with the metal rebar in your driveway and cause corrosion. Also, when overused or mismatched, it can become a serious environmental pollutant.
Instead, use a good ice melter on the driveway, the one that is free of salt, chlorine, and acetate and isn't harmful to the environment, pets, and children.
---
Weather Forecast
---
4- Add Traction Along With An Ice Melt
Apart from using a chemical-free ice melt on the driveway, you can also prepare your driveway by adding traction. A traction agent adds friction to the surface immediately so that you can cross the slippery layer of ice without the fear of fall. An alternative to this is to use gravel and sand to make the snow less slippery.
5- Clean It Up After Applying An Ice Melt Product
If you want to take care of your driveway, then you must keep it clean. Your work doesn't end with spreading the ice melt. If there are tracked-in ice melt particles left, they will not only steal the look of your driveway but can also damage your floor and rugs. By using track mats at all entrances and cleaning them regularly with a mop or vacuum cleaner, you can avoid ruining your carpets and floorings.
---
Other Products
Traction Magic – Walk On Ice
The handy disposable canister can be taken everywhere with the same 100% naturally occurring minerals that provide instant traction on ice. Use it on sidewalks, steps, or as an instant traction agent for your car.
Safe Thaw
Imagine an ice melt you can put down and never worry about. It won't harm animals or children, and it won't damage your property. That's Safe Thaw. Unlike anything else on the market, Safe Thaw can change how winter affects our planet.
---