Flat Roof Snow And Ice Prevention
Flat roofs are popular in homes and businesses because they are energy-efficient, low-maintenance, and fashionable. They're less difficult to install than other types of roofing. However, when exposed to external elements such as changing weather, they are prone to cracks and leaks. Heavy snowfall and ice present additional challenges for your roofing that must be addressed quickly to avoid damage to your structure. You can keep your property safe this winter. With proper planning and maintenance by using a safe ice melter for the roof.
How To Prevent Snow Damage To Your Flat Roof?
1-Inspections Are Conducted Once A Year
The best way to avoid problems or prevent existing ones from getting worse is to have your roof inspected. When looking for a roofing company, ensure they have a good safety record, insurance, and positive feedback from previous customers. A certified roofer will be able to inspect your roofing membrane for damage from ice melt on roofs and other tears, as well as check its overall integrity and drainage outlets. To keep your roof in good shape, you should have it inspected at least once a year.
Get ready for winter with the ONLY Pet Safe Ice Melt you can trust
2-Waterproofing
Waterproofing your roof is essential for preventing water damage to your home. There are waterproofing membranes on the market that act as watertight sheets. If you've recently moved into a home, find out when the waterproof membrane was installed or replaced by the builder or seller. Safe Paw, for example, is a new ice melt that was developed without the use of salt, unlike much other ice melt for roofs. As a result, Safe Paw is less toxic than other ice melt products on the market.
Get ready for winter with the ONLY Pet Safe Ice Melt you can trust
Ice Melt For Roofs
3-Insulation
Buildings with flat roofs typically do not have the same amount of attic space as those with sloped roofs. Building heat can warm up the roof in the absence of that space, causing standing snow to melt. The resulting water can work its way to the colder edges and re-freeze, resulting in ice dams. Proper insulation prevents inside heat from warming the roof, which can be avoided. You can insulate your roof by doing the following:
1-Putting a layer of rigid foam insulation on the roof's underside;
2-Choosing fiberglass insulation and melting the ice with a heated de-icing cable.
4-Outlets For Drainage
Flat roofs are prone to accumulating debris like leaves and twigs. These can be blown into your drains and clog them, preventing them from effectively removing water. As a result, when the melted snow has nowhere to go, leaks can occur. As a result, before the peak winter season arrives, you should have your entire roof swept clean.
Get ready for winter with the ONLY Pet Safe Ice Melt you can trust
Conclusion
Even if you have taken care of your roofing in the past, it will require extra attention in winter to ensure that it protects your building. Maintaining the integrity of your flat roof takes time and effort throughout the year.
It is necessary to take preventative measures. Using non-toxic ice melter for the roof like Safe Paw will ensure snow and ice prevention on your flat roof in winter weather. Safe Paw is safe and non-toxic in nature. You can also protect your building for years to come by choosing a high-quality product and having it professionally installed.
Gaia Enterprises Inc. delivers 100% pet-safe and environmentally friendly winter products. Safe Paw, our flagship product, is the #1 selling pet-safe ice melt that does not harm pets, safe if ingested, and safe on all types of concrete.
Other Ice Melt Products
Safe Thaw
Imagine an ice melt you can put down and never worry about. It won't harm pets, kids and your property. That's Safe Thaw. Unlike anything else on the market, Safe Thaw can change how winter affects our planet.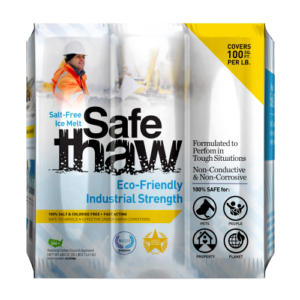 Traction Magic
Stay safe on slippery surfaces with a product that's 100% natural and safe for pets, people, and your property. Use Traction Magic on sidewalks, steps, or as instant traction for your car.