Do You Really Need Snow Removal Services?
Snow is heavy, and the harsh cold that comes with it permeates into the bones and the inside workings of structures and concrete. Property can be damaged by the cold, snow, and by harmful salt components of ice melt. To safeguard your property, you need to know how to melt ice without salt to withstand a tough winter.
How well do you know how to remove snow? Do you know when it's time to hire a snow removal service? Consider how long it'll take to plow your parking lot. Is shoveling part of your snow removal service? There are lots of questions that arise when we are thinking about snow removal from our business premises. Let us know how to use a safe industrial ice melt and why it is the best option for your business.
Why Is Ice Melt Better Than Snow Removal Services?
Snow removal services frequently do not include shoveling sidewalks. If this is critical to you, you must express your desire to include that extra line. Not all snow plowing companies will be aware that you require this service. As a result, if you have sidewalks that need to be cleaned, you must request that they be added to your snow and ice contract. With ice melt, you can use it any time on any surface based on weather and footfall.
Other Ice Melt Products
Traction Magic
Stay safe on slippery surfaces with a product that's 100% natural and safe for pets, people, and your property. Use Traction Magic on sidewalks, steps, or as instant traction for your car.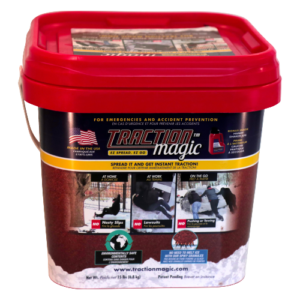 Safe Paw
Pet Safe Ice Melt you can trust. It is 100% natural, biodegradable, eco-friendly ice melt made from volcanic remains. Safe Paw is safe for you, your pet's paws, your property, and the planet.