Best Ice Melt For Commercial Ice Removal
Low temperatures can be dangerous for you, your family, friends, visitors, and pets to be outside. In addition to endangering your health, the cold can cause slick conditions that make walking or driving hazardous.
You can use an ice melt around your house or business, such as sidewalks, driveways, and especially stairs, to keep ice from disrupting your business and life. Several products in the market claim to be chloride-free ice melt or environmentally friendly and concrete safe. We decided to find the best ice melt for you based on customer reviews.
Safe Thaw
It's non-toxic and biodegradable, and it's guaranteed to melt below -2°F.
The concentrated mixture ensures long-term, optimum effectiveness for your business.
Safe Thaw is non-conductive and non-corrosive. If you're a business owner, then it is the best option for you if you're looking for a safe industrial ice melt. In your premises, you have delicate machinery that can rust, Safe Thaw is safe for it. Not only that there is no danger of short circuits or any risk of damages to your property.
One of the reviewers claimed that it also aids city code enforcement. When the city authority is ticketing people, the blue pellets of safe thaw are simple to identify. Furthermore, the blue pallets withstand severe temperatures well and do not dissolve quickly, eliminating the need for frequent reapplication. The pet owner reviewers gave their thumbs up to the product. When walking on ice, it also gives adequate traction.
Get ready for winter with the ONLY Salt Free Ice Melt you can trust
Blue Heat Snow and Ice Melt
It has calcium chloride, sodium chloride, magnesium chloride, and ferric chloride, among other salts. Many times you can easily see where the salt had been spread due to its blue color with an industrial blue premium ice melt. The bucket's handle is very comfortable to hold. However, if consumed, it can be dangerous to pets. Moreover, it has various chloride combinations that may not be safe in the long run.
Green Gobbler
The industrial ice melter- Green Gobbler, can melt ice faster than some of the other products. But according to some, the pellets are less efficient on thick ice. People reported that spreading a layer of pellets on their sidewalks and driveways before and after snowfalls worked well. It seems that pre-applying prevented the initial several inches of snow from sticking. It acts swiftly and melts ice in temperatures as low as -40°F. But it has issues with thick ice and can harm plants and grass.
Natural Rapport Ice Melt
It's composed of calcium magnesium acetate, which is one of the more environmentally favorable salts. As per reviews, in temperatures below 20 degrees Fahrenheit, it isn't particularly effective. It's simple to use with a user-friendly jug. According to some reviews, it is expensive, may not live up to its claims of being pet-safe, and may not operate well in extreme cold.
Conclusion
It's best to start thinking about ice melt before winter arrives. Choosing the correct ice melt for your business will help you achieve the best outcomes in terms of keeping your customers safe and your facility in good shape. Hence, go for an ice melt that is chloride-free, environmentally safe, and non corrosive.
Other Ice Melt Products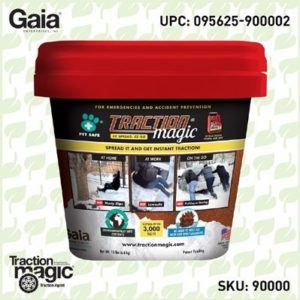 Traction Magic
Stay safe on slippery surfaces with a product that's 100% natural and safe for pets, people, and your property. Use Traction Magic on sidewalks, steps, or as instant traction for your car. Traction Magic provides instant traction on all icy surfaces.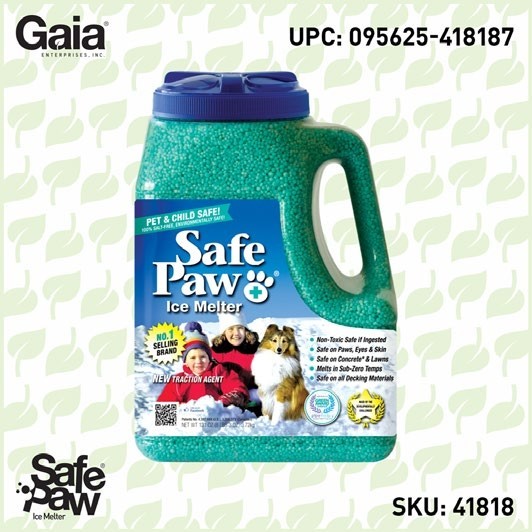 Safe Paw
Imagine an ice melt you can put down and never worry about. It won't harm animals or children, and it won't damage your property. That's Safe Paw. Unlike anything else on the market, Safe Paw can change how winter affects our planet.