5 Ways In Which Rock Salt Is Harming You
Salt is one of the most popular methods to clear snow and ice. However, popularity doesn't mean it's the best way to get rid of slippery layers of ice. Though it's good at melting snow and ice, it poses some health concerns to humans and animals.
Here are 5 ways in which rock salt might be harming you and your family-
1. Driveway:
Slip and fall accidents are quite common in winter months due to slick surfaces.
Many people choose to apply rock salt to their concrete steps or pavement. However, these are not safe salt for concrete and can cause concrete to become damaged over time.
Using salt to melt ice regularly pits the cement used for our walkways, steps, and other concrete areas. Once the cement pits, it will eventually crack or cause potholes on your surface.
2. Children:
Children come into contact with salt-based pellets while playing in the snow. These products can irritate eyes and accidentally ingesting them can cause stomach problems and kidney damage. Direct contact with the skin can lead to dermatitis, rashes, and blistering.
Ice Melt Safe For Pets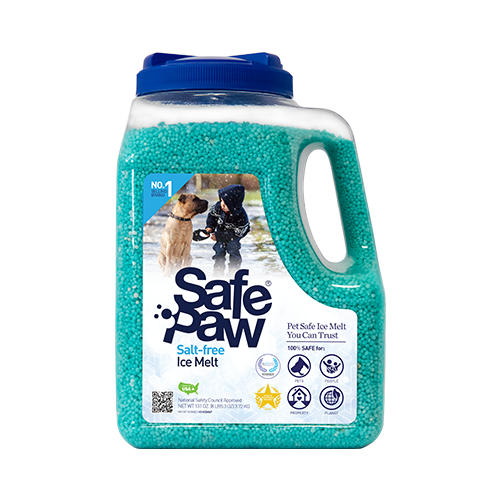 Safe Paw
The Original and the #1 Pet and Child Safe Ice Melt for over 20 years. Guaranteed environmentally safe – will not harm waterways and sensitive wetlands.
3. Pets:
For dogs, in particular, exposure to salt-based ice melters can mean an unhealthy winter and unplanned trips to the veterinarian. The salts get frozen into the dog's paws and fur.
When they are inside with higher temperatures, these salts can burn the skin causing ulcers and redness to tissue which can lead to bacterial infections. Dogs can also develop intestinal problems and inflammation of the stomach (gastritis) from licking the salt-based products off their paws.
4. Property:
Salt residue left over from these products causes permanent damage to pavers, asphalt, concrete, wood decks, floors, and rugs.
5. Environment:
Salt seeps into groundwater supplies or gets washed into lakes and streams and harms aquatic wildlife. Salt-based ice melters also erode soil, kill plants, burn grasses, and poison birds.
Get ready for winter with the ONLY Pet Safe Ice Melt you can trust
Safe Paw On The Other Hand Is:
100% safe for children and pets.
fit and safe for the surface and environment.
Cannot cause harm to the deck of any type like for wood decking.
Cannot stain nor destroy floors.
safe on shrubs and plants.
safe on concrete, asphalt, and pavers.
has a proprietary traction agent that helps prevent slips and falls on the ice.
able to attract solar energy to give more melting power in the daytime hours.It has a unique combination of a crystalline amide core laced with magical glycols that are non-corrosive and non-toxic, and it uses a patented dual-effect compound. This combination makes it quick to act and accelerates the melting process.
Get ready for winter with the ONLY Pet Safe Ice Melt you can trust
Conclusion
Now that you know the dangers of using a salt-based snow melter salt around your property, you must choose wisely. Many times, we ignore these salt hazards when buying ice melt and end up dumping toxic chemicals around our kids, pets, and plants.
Gaia Enterprises Inc. delivers 100% pet-safe and environmentally friendly winter products. Safe Paw, our flagship product, is the #1 selling pet-safe ice melt that does not harm pets, safe if ingested, and safe on all types of concrete.
However, if you're looking for an ice melt safe for concrete or an ice melt that won't damage concrete then you must stop using salt right away.
Get ready for winter with the ONLY Pet Safe Ice Melt you can trust
Other Ice Melt Products
Safe Thaw
Imagine an ice melt you can put down and never worry about. It won't harm pets, kids and your property. That's Safe Thaw. Unlike anything else on the market, Safe Thaw can change how winter affects our planet.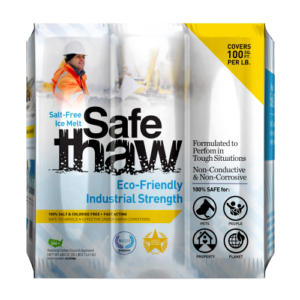 Traction Magic
Stay safe on slippery surfaces with a product that's 100% natural and safe for pets, people, and your property. Use Traction Magic on sidewalks, steps, or as instant traction for your car.