How To Melt Ice Without Concrete Damage
Dealing with difficult winter circumstances during the cold season is never simple, and one of the issues you'll have to deal with is melting ice without damaging your concrete. The cold weather will cause ice to form on concrete, and paved surfaces, which is extremely dangerous in residential and business settings since family members, children, pets, and employees may fall and slip.
The good news is that you can prevent these problems at work and home, but you must be cautious because not all options are safe. Hence, it is critical to know how to melt ice on concrete without damaging it.
Concrete Safe Ice Melt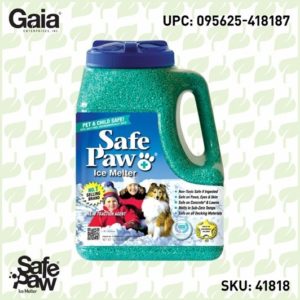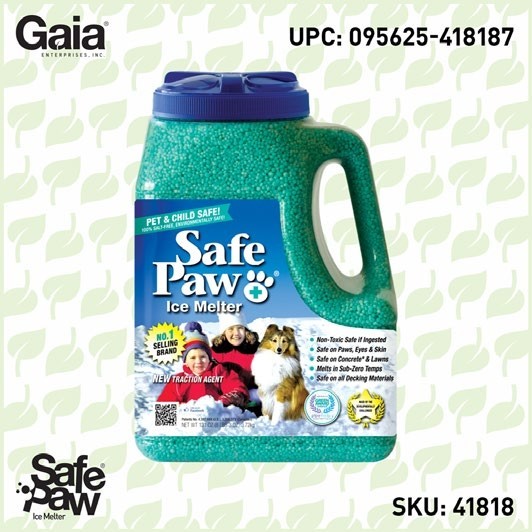 Safe Paw
The Original and the #1 Pet and Child Safe Ice Melt for over 20 years. Guaranteed environmentally safe – will not harm waterways and sensitive wetlands.
Why Is Salt A Threat?
The most frequent method of reducing ice and snow buildup is to use salt, which is the first option for most homes and business owners. While it's a simple solution that can be applied to porches, sidewalks, and driveways, it's crucial to keep in mind that salting these surfaces could cause harm. 
When salt is added to concrete, it can cause it to pit, which can lead to cracks and potentially the collapse of the structure. Salt can also damage patio furniture and other components of your property, so while it may appear to be a wonderful option, it isn't, which is why you should look for safer alternatives.
Calcium chloride is considered less disastrous than sodium chloride and other strong chemicals, but its excessive use can be extremely harmful. It draws moisture, making surfaces damp and slick and, due to this, you have higher chances of slipping and falling. Metals corrode, and carpets and tiles are destroyed by calcium chloride.
Magnesium chloride corrodes metals while also absorbing moisture from the air. The concrete surface will remain wet because of the water absorption property of this ice melt. Thus, prone to damage.
Get ready for winter with the ONLY Pet Safe Ice Melt you can trust
How To Melt Ice On Concrete?
Safe Paw Deicer 
It is one of the few ice melt products on the market that can be used around pets and children while also being kind on concrete walkways. The reviewers claim that it is the best concrete ice melt available in the market. 
Because it's fully salt-free, it's a one-of-a-kind compound with a time-released action. Its main ingredient is the crystalline amide core injected with glycols. It has a non-corrosive and natural structure. It can melt ice to 2 degrees below zero, unlike rock salt and other salt-based ice melting products. The ice melts with potassium chloride or sodium chloride and can only melt ice to 24 degrees.
Get ready for winter with the ONLY Pet Safe Ice Melt you can trust
Sand, Ash, Coffee Grinds, Cat Litter
These traction materials help to lessen the risk of slipping and falling on ice. These solutions are not the ice melt but will help you avoid slip and fall incidents by adding traction to the surface. You can use all these products for traction, but they will leave a tremendous mess to clean up.
Conclusion
The negative, frigid temperatures and storms have become proverbial with winter, affecting everything in their path. Ice will form on many outdoor objects, including your concrete and asphalt surfaces, during cold temperatures and storms. When snow accumulates on concrete driveways, a slippery surface forms, which is hazardous. This winter, it's critical to keep your business or home's concrete driveway safe and clear for those who use it. But before purchasing the ice melt, make sure that you are not inviting concrete foe into your premises.
Other Ice Melt Products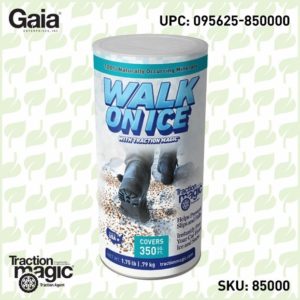 Walk On Ice
Walk On Ice safely in Winter, with the latest addition to the Traction Magic collection. The handy disposable canister can be taken everywhere with the same 100% naturally occurring minerals that provide instant traction on ice or snow.
Safe Thaw
Imagine an ice melt you can put down and never worry about. It won't harm animals or children, and it won't damage your property. That's Safe Thaw. Unlike anything else on the market, Safe Thaw can change how winter affects our planet.