5 Methods Of Cleaning The Ice Melt Residue Off Concrete
Every year when the weather turns icy, you sprinkle salt down to keep everyone safe, but you end up with a grimy, sticky ice melt residue mess inside your house and on concrete. It's unsightly, famously tough to clean, and can even harm the finish of your floor!
It never fails that some ice melt product will be tracked inside houses, no matter how hard you try. Once this occurs, it's critical to clear the dirty area as soon as possible to avoid any potential floor damage.
During the winter months, ice melting compounds are used at building entrances to prevent the ground from becoming slippery, ensuring the safety of staff and customers. The issue is that the ice melt residue is tracked inside and onto carpets and hard floors when visitors enter the house. Many ice melts leave harmful residue on the concrete surface and cause damage, discoloring, or staining. It makes cleaning more difficult. Even some homemade ice melt products also leave behind ugly stains.
Pet Safe Ice Melt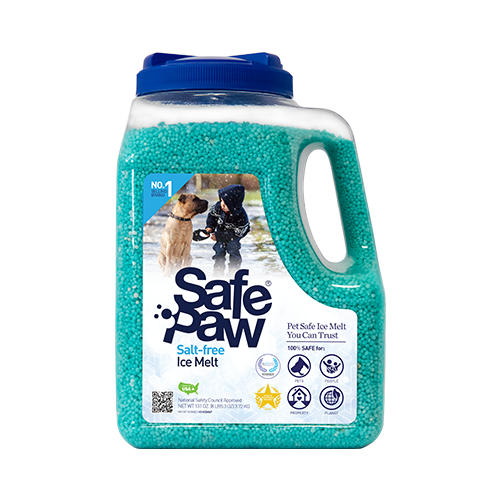 Safe Paw
The Original and the #1 Pet and Child Safe Ice Melt for over 20 years. Guaranteed environmentally safe – will not harm waterways and sensitive wetlands.
1.Washing it away
You can use this method to clean the ice melt residue. Most ice melts are harmful chlorides and we cannot leave them on the surface for long. The chloride residue will seep through the concrete pores and will damage the internal structure. Moreover, these chlorides can also corrode metals.
Gaia Enterprises Inc. delivers 100% pet-safe and environmentally friendly winter products. Safe Paw, our flagship product, is the #1 selling pet-safe ice melt that does not harm pets, safe if ingested, and safe on all types of concrete.
2. Remove debris
Sweep the concrete to remove any large debris or ice melt. It's impossible to avoid using ice melts, but you can clean the chemicals mixed with snow with the help of a stiff-bristled broom. Ice melt and other winter soils are prevented from entering and being tracked by keeping the house clean.
Get ready for winter with the ONLY Pet Safe Ice Melt you can trust
3.Choose a Neutralizer for the Floor
Choosing the correct floor cleaning product is the most critical step in removing white streaks and ice melt residue. Ice melt chlorides and other organic residues are all dissolved by floor neutralizers.
Do not attempt to use a cleanser with a pH that is too high or too low. Aside from the risk of harmful chemical reactions, cleaning chemicals with a high or low pH will not remove the residues. Hence, before you use a floor neutralizer, do your research so that you don't end up doing more harm to your concrete.
4.Getting a salt-free ice melt
A salt-free ice melt with natural ingredients will not leave behind any messy residue. It is safe for all surfaces and will not cause any staining and damage. Once you use this ice melt, it will keep you protected for 72 hours. If you want to clean the surface, dump the residue in your yard, and it will nourish your foliage. It is also a pet-safe ice melt and does not damage the environment.
Get ready for winter with the ONLY Pet Safe Ice Melt you can trust
5.Acid solution
A mixture of mild hydrochloric acid and water might be utilized (1 part acid to 20 parts water). However, because the acid can harm some concrete surfaces, it should only be used by persons who are familiar with it. It may take several attempts to entirely remove the stains and residue if they are severe or thick.
Conclusion
Water alone will not remove salt residue. To remove it from the surface, you'll need to use another cleaning agent. There are several commercial cleaners on the market, but you need to be aware of their ingredients as well. The best option is to choose an ice melt with no messy aftereffects. The concrete-safe, pet-safe ice melt is the best solution to your winter worries.
Other Ice Melt Products
Safe Thaw
Imagine an ice melt you can put down and never worry about. It won't harm pets, kids and your property. That's Safe Thaw. Unlike anything else on the market, Safe Thaw can change how winter affects our planet.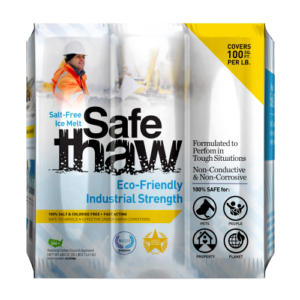 Traction Magic
Stay safe on slippery surfaces with a product that's 100% natural and safe for pets, people, and your property. Use Traction Magic on sidewalks, steps, or as instant traction for your car.