Safer Than Salt Industrial Ice Melt
As a business owner, winter brings its own set of challenges, and you have to prepare yourself with the best industrial ice melt and other snow removal equipment. Your customers' and employees' safety is of foremost importance, and with the right tools, you can ensure doing that. While there are several products in the market, you have to be a responsible citizen and use products that won't harm the environment.
Ice formation in winter is a common problem, especially on open driveways, parking lots, and sidewalks close to business premises. Being a business owner, you must keep these clear of all ice and snow during peak winters. If you have guard dogs on your premises, you also need to invest in pet safe ice melt that will keep them safe as well.
What Is The Difference Between Industrial Ice Melt And Rock Salt?
Rock salt is the chemical composition of sodium chloride and is not purified for human consumption. Its primary function is to lower the freezing point of water forming brine, a mixture of salt and water. However, many businesses overuse salt that causes more harm than good. It corrodes concrete, leaves a whitish residue around, and damages the business premises' vegetation.
Industrial ice melt contains a blend of sodium chloride and magnesium chloride or potassium chloride, or calcium chloride pellets. It also lowers the freezing point of water and is best applied before a snowstorm to avoid snow sticking to the surface. However, it would be best to use ice melt responsibly because excessive use of a few tends to damage concrete in the long run.
Get ready for winter with the ONLY Salt Free Ice Melt you can trust
Which Is The Best Industrial Ice Melt Today?
Safe Thaw, a 100% eco-friendly ice melt, comprises modified carbonyl diamide crystals, special glycols, proprietary traction agents, and other natural ingredients. As a business owner, you not only have to take care of melting the ice but creating long-lasting traction that will ease the movement of your customers and employees.
Safe Thaw is formulated to perform under challenging weather conditions and is chloride-free and salt-free. Once the crystals hit the icy surface, they leach out a deicing liquid that speeds up the melting process. It penetrates snow and ice's molecular structure and does not allow it to refreeze. Since the granules destabilize the ice, it helps keep the business premises ice-free for more extended periods, thus increasing footfall and avoiding any untoward incident.
It is readily available at any home depot ice melt section or ordered directly from the manufacturer.
Get ready for winter with the ONLY Salt Free Ice Melt you can trust
Conclusion
While there are several snow removal products in the market, you can quickly get access to pet-safe ice melt that not only has the strength to work in harsh conditions but is eco-friendly at the same time. You can use Safe Thaw at any heavy industrial set up, jetways, bridges, commercial premises, near machinery, construction sites, amongst others. It is safe for all waterways and land surfaces.
Other Ice Melt Products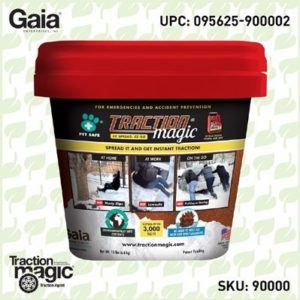 Traction Magic
Stay safe on slippery surfaces with a product that's 100% natural and safe for pets, people, and your property. Use Traction Magic on sidewalks, steps, or as instant traction for your car. Traction Magic provides instant traction on all icy surfaces.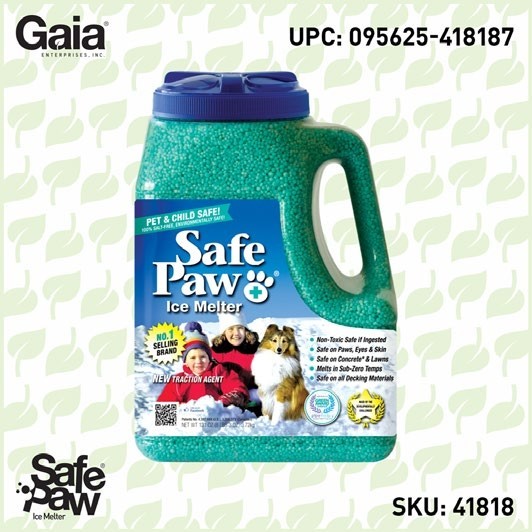 Safe Paw
Imagine an ice melt you can put down and never worry about. It won't harm animals or children, and it won't damage your property. That's Safe Paw. Unlike anything else on the market, Safe Paw can change how winter affects our planet.