Removing Ice From Slanted Roof Commercial Buildings
As a commercial building owner, one of the biggest problems we face during winter is removing snow. From the driveway to parking lots we need a good ice melt for concrete to get rid of snow and ice. But we often forget or ignore our roofs until it is too late to repair or replace them. There are different roofing materials such as cedar, asphalt, shingles, slate, clay, or concrete tiles available in the market. Removing snow from flat roofs is not the same as removing snow from slanted roofs.
Ice Melt For Concrete And Roofs
One hailstorm or a snowstorm is enough to give you an idea of how important it is to keep your roofs clear of ice. There can be numerous dangers due to the accumulation of snow on the top. From the formation of ice dams to the dampening of the walls, dangers are real. It is important to use a solid ice melt for concrete that is not only safe for your driveway but the roof as well. You can always walk into any home depot and buy ice melt in bulk; however, your chances of protecting your roofs are higher with Safe Thaw ice melt. 
Yes, you can safely use it on any shingled or slanted roof of residential or commercial spaces.
Safe Thaw is a unique ice melt spreader comprising a patented dual-effect compound of crystalline amide core infused with special glycol admixture and traction agents. It is a timed-release action and starts working as soon as it touches the icy surface. You can spread 
Safe Thaw on the roof before a snowstorm hits to avoid the snow from sticking to the roof. 
While you may have a slanting roof, you can use the ice melt in smaller pockets and spread it evenly on the roof. Since it is 100% natural and environment-friendly, your roofing material has minimal chance of damage. In addition, Safe Thaw has gone through extensive testing on all different roofing materials to check its durability, reliability, and longevity.
Since it also has traction agents, you can apply it after snowfall after you have cleared the excess snow layer, if needed. The liquid that leaches from the core starts acting with the ice and breaks the surface tension on the roof. In addition, it attracts solar heat to provide extra melting power during the day, thus enabling a quicker reaction on the icy surface. 
Get ready for winter with the ONLY Salt Free Ice Melt you can trust
Conclusion
So, next time you're looking for ice melt for concrete make sure it's safe for your roof too. Using Safe Thaw helps you get the desired reaction, does not clog drains, does not harm your landscape, and is 100% safe for kids and pets. In addition, your roofs last longer with the correct application of the product. However, do ensure you do not over-apply since it would not act any faster. You can use a pound of the product on 100 square feet. 
Other Ice Melt Products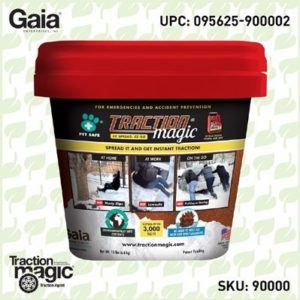 Traction Magic
Stay safe on slippery surfaces with a product that's 100% natural and safe for pets, people, and your property. Use Traction Magic on sidewalks, steps, or as instant traction for your car. Traction Magic provides instant traction on all icy surfaces.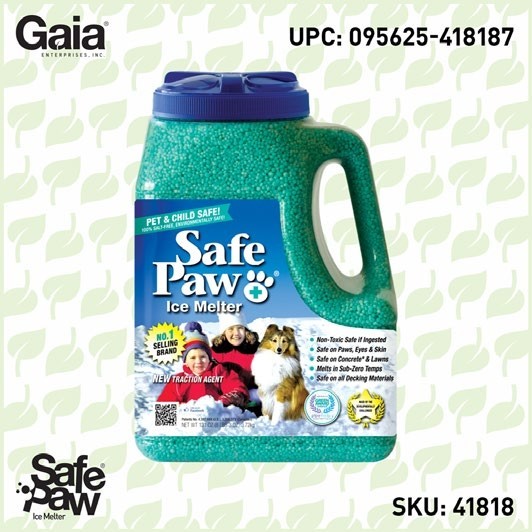 Safe Paw
Imagine an ice melt you can put down and never worry about. It won't harm animals or children, and it won't damage your property. That's Safe Paw. Unlike anything else on the market, Safe Paw can change how winter affects our planet.