Are You Using Too Much Salt On Your Commercial Driveway?
You have started noticing slight discoloration of your driveway concrete, and you have been wondering what to do! Unfortunately, there is a high chance your ice melt is not working the way it should and is causing you more harm than good.
Any commercial or non-commercial ice melt has two primary functions- melt ice and keep you and your vehicle safe to move. If these two intents don't meet successfully, there is a high chance of you spending more than you want to every winter or post-winter.
Whether you buy the ice melt in bulk or small quantities, you know you have overapplied, if you notice –
Cracks on the concrete around the driveway.
Concrete settling and giving way to uneven walking and driving surface.
Discoloration of the concrete because of the ice melt residue.
Whitish residue around plants and vegetation due to excessive salt or chloride deposit.
Excessive brine or slush that sticks to your boots or shoes.
Patchy surface all over your commercial establishment because of spreading ice melt unevenly.
Other Ice Melt Products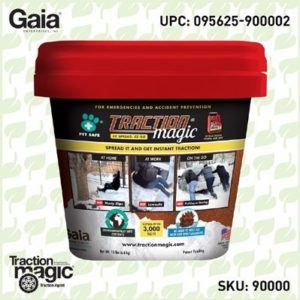 Traction Magic
Stay safe on slippery surfaces with a product that's 100% natural and safe for pets, people, and your property. Use Traction Magic on sidewalks, steps, or as instant traction for your car. Traction Magic provides instant traction on all icy surfaces.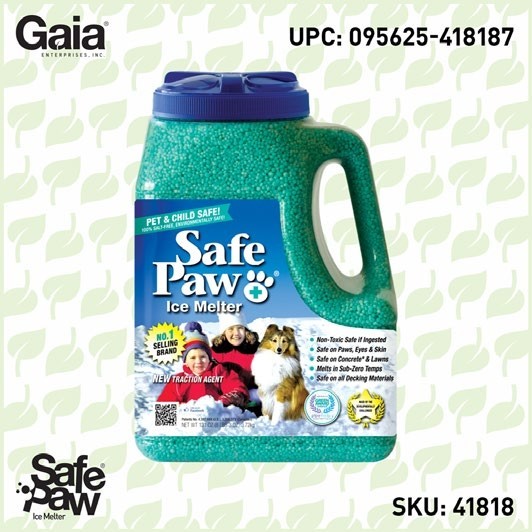 Safe Paw
Imagine an ice melt you can put down and never worry about. It won't harm animals or children, and it won't damage your property. That's Safe Paw. Unlike anything else on the market, Safe Paw can change how winter affects our planet.