5 Ice Melt Types
In terms of ingredients, ice melt products will differ from one another. There are different ways to melt ice by using a variety of chemicals used in ice-melting products. Chemical compounds containing a chlorine component are used in many of the ice melt solutions on the market today. Some ice melt products use sodium chloride as their primary ingredient, whereas others use calcium, potassium, or magnesium chloride. But the chlorine-based ice melt has its drawbacks.
Let us find out more about different types of ice melt.
Different Types Of Ice Melts
1. Safe Paw Ice Melt –

More and more ice melt products are incorporating glycols and similar compounds. Unlike many other products on the market today, ice melt products using glycols will not be corrosive. These kinds of products will also start working at a faster pace than many products that utilize different components. People that use ice melter products made from glycols should also have fewer problems with salt stains. The formula used by Safe Paw Ice Melt is safe for the environment.
Natural, Safe, Non-Corrosive Ice Melt
Safe Paw
The Original and the #1 Pet and Child Safe Ice Melt for over 20 years. Guaranteed environmentally safe – will not harm waterways and sensitive wetlands.
2. Sodium Chloride Ice Melt –

is one of the ice melt products that people are most familiar with and is generally sold as rock salt. Many people rely on rock salt in order to create safe walkways for themselves and their neighbors during the winter. Rock salt will gradually melt the ice, getting it to around twenty-four degrees Fahrenheit. Rock salt is also significantly less expensive than many other ice melt products on the market today, which is one reason so many people rely on it. However, many people find that they get salt stains around the house when they use rock salt, which may be a problem for many people. Also, it is dangerous to the environment.
3. Potassium Chloride Ice Melt –
will melt the ice to twenty-five degrees Fahrenheit, but it won't reduce it to temperatures lower than that. People that are suffering from a particularly hard winter with a lot of dangerous ice may want to invest in a stronger ice melt product. However, in terms of environmental impact, potassium chloride is preferable to many other ice melter products. People that are environmentally conscious will sometimes pick potassium chloride as an ice melter product even though it is not the most environmentally friendly ice melter. It is significantly costlier than competing types of ice melt products and it will not always produce ideal results.
4. Magnesium Chloride Ice Melt –
Magnesium chloride is rated very highly in terms of its ability to efficiently melt ice. While magnesium chloride is not as affordable as rock salt, many people think the slightly increased price is worth it if they get better results with magnesium chloride. Magnesium chloride ice melt tends to be better for the environment than many other ice melter products, which is a strong incentive for an increasing number of consumers. However, it is still not a child and pet-friendly ice melt
5. Calcium Chloride Ice Melt –
Calcium chloride is one of the most familiar of all ice melt products, apart from rock salt. Products based on calcium chloride have been in use for a long time. However, people that are concerned about the possible health consequences of using ice melt products should be particularly wary of using calcium chloride, even compared to other ice melt products that contain chlorine. Salt stains with calcium chloride are also very common, even though it is more expensive than sodium chloride.
Get ready for winter with the ONLY Pet Safe Ice Melt you can trust
Effect Of Ice Melt Salts On Concrete, Pets And Plants.
Concrete and Chlorides:
Any chloride-containing substance, such as sodium chloride, potassium chloride, or calcium chloride, may be safe in other situations, but not in concrete, especially new concrete. These slightly acidic compounds degrade the paste that holds concrete together by widening the pore size and allowing water to pass through.
When more water enters into the pores of your concrete, the freeze-thaw cycle becomes more dangerous. Salt is unusual in that it is hygroscopic, which means it can hold water. When salt penetrates the pore structure, the frequency of freeze-thaw damage to the concrete rises.
Because chlorides quickly penetrate the thin, protective iron oxide layer and start the corrosive process in steel, they can induce corrosion of reinforcing steel.
Pets And Chlorides
Simply put, sodium chloride is salt. Ingesting a large amount of sodium chloride can be dangerous for dogs; even a small amount can induce gastrointestinal distress. It also irritates the paws of our four-legged friends. Another salt compound that is unpleasant to consume is potassium chloride.
Magnesium chloride, which comes in crystal and flake form, is a common deicer. It can cause gastrointestinal problems if administered in large amounts, and it is risky for dogs with renal impairment who are sensitive to magnesium dosages.
Calcium salts (calcium carbonate, calcium chloride, and calcium magnesium acetate): calcium carbonate, calcium chloride, and calcium magnesium acetate are all calcium salts. Calcium salts are the most harmful of all ice melts. Ingestion can cause gastrointestinal issues, as well as irritation of the skin and paws.
Plants and Chlorides
Salts harm plants in several ways. The chloride ion is the most dangerous component of deicing salts, causing much of the direct plant tissue damage.
In the spring, salt from puddles pouring onto plants as cars pass by can scorch leaves or injure buds and twig tips on deciduous plants. Pines are notorious for their sensitivity to roadside deicing salts. In late winter, damaged pine needles may turn a pale green, yellow, or brown color.
The most likely cause of fading vegetation on the side of the plants facing the road or driveway is salt spray. Salt builds up in the soil, making water absorption harder for plant roots.
Excess sodium wreaks havoc on soil structure, resulting in poor infiltration and erosion. By displacing vital plant nutrients, sodium ions can diminish soil fertility.
Get ready for winter with the ONLY Pet Safe Ice Melt you can trust
Why Do You Need Safe Ice Melt?
Snow and ice are a challenge for homes, particularly those with pets or small children. They can cause serious falls that may necessitate medical treatment. It is always a good idea to have an ice melter solution on hand to avoid any unpleasant accidents. There are different types of ice melts in the market, hence you need to follow caution while choosing the best solution for your family, pets and environment.
How To Buy An Ice Melt Product?
Examine The Ice Melt Jar's Makeup.
Before you buy ice melt, be sure you know about its main constituents. By going through it, you'll be able to determine whether the ice melt contains any potentially harmful salts. The Safe Paw jar contains the following information:
Non-toxic safe if ingested
Safe on paws, eyes, and skin
Melts in sub-zero temps
Safe on all decking materials
Look Up The Product On The Internet.
Watch videos and read online reviews and testimonies. The natural salt-free ice melt received the majority of the positive feedback.
Natural ice melt that is salt-free is better for the environment and animals, according to one review. There is only one planet for us to live on, and we must all do our part to maintain it healthy. It can be used on asphalt roads and paths without harming them.
Unlike most ice melters that claim to be safe for dogs and concrete, brick, and other hard surfaces, this all-natural product, according to another customer, is safe for all of these. It has no salt, not even rock salt.
Get ready for winter with the ONLY Pet Safe Ice Melt you can trust
Check Safety Regulations
It contains no salt and is suitable for children and pets. It has garnered several major awards for being safe for people, pets, and the environment.
1. Governmental awards in the United States
2. Parent Tested Parent Approved (PTPA) Green Product Seal of Approval for family-friendly and effective products
Pediatricians, veterinarians, wildlife experts, groomers, animal shelters, and humane organizations all endorse it.
Make An Informed Decision.
To begin with, not every product on the market is suitable for you and your concrete, as some producers sell snowmelt that contains chemicals or salts that can harm children, pets, plants, and concrete.
Such substances are dangerous to your health and the health of your family. They have the potential to damage the surface and cause fractures, especially if the concrete is fresh. It's crucial to choose a product that's both safe for everyone and good for concrete. It's also worth noting that these products harm the environment as well as the surface.
Choose a salt-free, non-toxic ice melt. Not only will it keep you safe, but it will help keep neighboring vegetation alive without damaging water bodies. The best ice melt means safer families, fewer injuries, and a healthier environment.
Love Your Pets
As pet owners, it is our responsibility to purchase the best available supplies to protect our animals. Even when it comes to pet-friendly ice melt, we must make the appropriate choice. We want them to be happy and healthy as much as possible. Because our pets are unable to communicate, we must speak for them. We must ensure that they are secure and at ease. Hence, as proud pet parents, we need to have a safe ice melt around them. A salt-free natural ice melt will neither damage its paws nor cause any other health hazards.
Get ready for winter with the ONLY Pet Safe Ice Melt you can trust
Conclusion
A salt-free, natural ice melt not only makes ice removal easy but also provides safe cover for your surface. During daylight hours, the solar characteristics present in it functions as a magnet to attract solar heat. After the ice has melted, an invisible protection screen is placed on the surface for 72 hours to prevent the ice from clinging to previously removed surfaces. Shoveling ice becomes quicker, safer, and more cost-effective thanks to this solar heating technology. Choose the best ice melting products for your premises that's safe for people, property, and the environment.
---
Other Ice Melt Products
Traction Magic
Stay safe on slippery surfaces with a product that's 100% natural and safe for pets, people, and your property. Use Traction Magic on sidewalks, steps, or as instant traction for your car.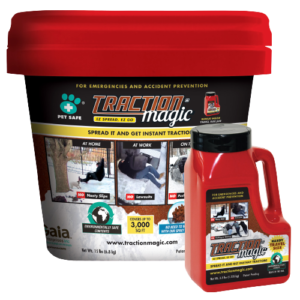 Safe Thaw
Imagine an ice melt you can put down and never worry about. It won't harm pets, kids, and your property. That's Safe Thaw. Unlike anything else on the market, Safe Thaw can change how winter affects our planet.
---