5 Things To Check Before Buying Commercial Ice Melt
Ice melt, snow removal equipment, hiring professionals, and using salt have become a part of every winter routine amongst almost every commercial establishment. You are not only concerned about your safety, but that of your customers, employees, and any heavy machinery or equipment you may have on your business premises. While you may try to opt for power thaw industrial-strength ice melt; however, you have to pay heed to the repercussions that come along with heavy chloride-based products.
Before buying any commercial ice melt, let's list out the top five things you must check:
Composition Of Ice Melt Safe For Concrete
As you are aware, you have sodium chloride or halite, or rock salt that is commonly used amongst business owners and commercial establishments. Then, you have blends of different products or chlorides such as calcium chloride + sodium chloride or magnesium chloride + calcium chloride + sodium chloride, or modified carbonyl diamide crystals + non-ionic surface accelerants, and much more. The composition of each element will help you determine how effective or not adequate it will be. Be wary while choosing an ice melt as it can affect your premises in the long run.
Each product is priced differently, and you will consider the cost-benefit ratio while investing in any product. Whether it is an industrial blue ice melt or a carbonyl diamide ice melt, pricing will help you decide your preferred commercial ice melt.
Get ready for winter with the ONLY Salt Free Ice Melt you can trust
Unlike modified carbonyl diamide, other ice melt products and deicers have a direct environmental impact. For example, excessive salt affects the moisture content in the soil, thus damaging vegetation or plant life, and extreme salt content in the waterways or groundwater leads to misbalancing aquatic life.
Check to see if clear instructions are written on the label or the back of the bag or box. You must follow the instructions to the T to ensure you do not harm yourself in the bargain. The instructions will help you with the exact quantity, application process, and what to do in case of any emergency. Read the instructions carefully before use.
The chemical composition of every ice melt is different. The longer it stays on the surface or continues to provide de-icing action after application, the lesser the frequency of the applying the ice melt. Products with more prolonged residual activity are slightly more expensive but will save costs on the amount of ice melt utilized. You must consider whether the ice melt is safe for concrete or not as well.
Carbonyl diamide crystals with special glycols are a unique composition of Safe Thaw that is surprisingly not expensive and has a lower residual impact.
Get ready for winter with the ONLY Salt Free Ice Melt you can trust
Conclusion
While we have power thaw industrial-strength ice melt and other products in the market that may or may not be safe; however, we must consider the points mentioned above before purchasing any commercial ice melt for our business use.
Other Ice Melt Products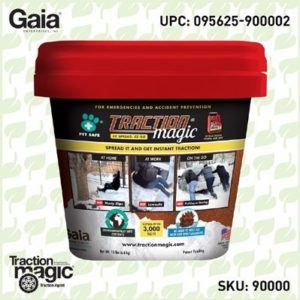 Traction Magic
Stay safe on slippery surfaces with a product that's 100% natural and safe for pets, people, and your property. Use Traction Magic on sidewalks, steps, or as instant traction for your car. Traction Magic provides instant traction on all icy surfaces.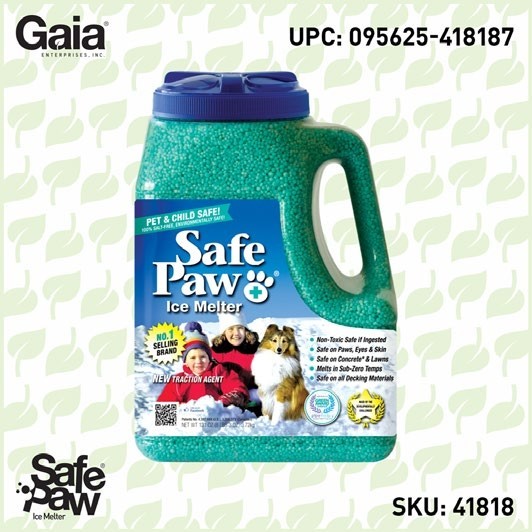 Safe Paw
Imagine an ice melt you can put down and never worry about. It won't harm animals or children, and it won't damage your property. That's Safe Paw. Unlike anything else on the market, Safe Paw can change how winter affects our planet.