Snow Melt That Does Not Damage Concrete
If you are using salt or other ingredients to melt snow in the winter ice storms, you are not alone. Many people use these agents every year and it offers a temporary fix to solve the problem. However, there are problems with using these agents, especially if they are salt-based. They are damaging your surfaces. You may not even know the damage they are doing until the snow melts and you find the damage left after a winter freeze.
THE PROBLEM WITH SALT OR OTHER SNOW MELT AGENTS
No one can deny the ease of use and access to salt agents. The problem is the corrosive properties inherent in salt. Salt is naturally hard on the ice, but it is also hard on concrete, resulting in sometimes corroding the surface of your sidewalks, porch, and other surfaces. You don't want to have damage done to your outside surfaces just because a winter storm hits. You need to find an ice melt solution that gets rid of the ice without leaving damaged surfaces behind.
Pet Safe Ice Melt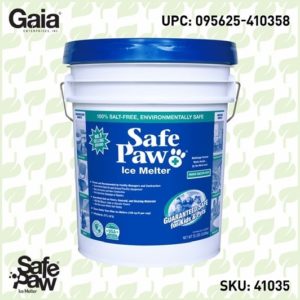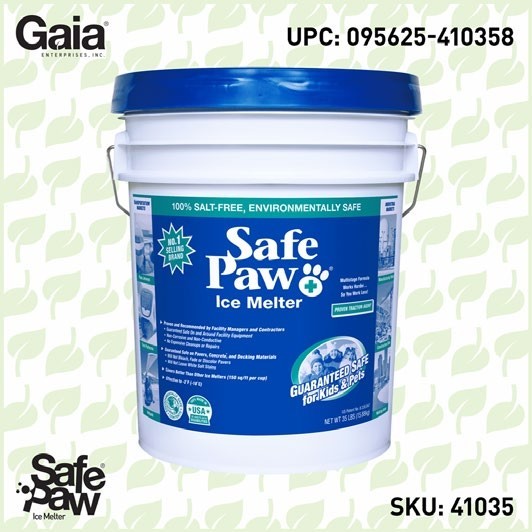 Safe Paw
The Original and the #1 Pet and Child Safe Ice Melt for over 20 years. Guaranteed environmentally safe – will not harm waterways and sensitive wetlands.
THE SOLUTION
The solution is to find a snowmelt that doesn't damage concrete. It also needs to be something that really works and is tough on the ice, but not on your concrete surfaces. SafePaw is the solution. It offers a 100% salt-free agent that is guaranteed to be safe to your pets, children, and others, while still doing a number on ice and snow. It leaves an invisible shield behind to protect your surfaces. It is easy to use, and safe on all major surfaces. Many veterinarians, groomers, human societies, and others consider it the #1 selling brand of snowmelt available! That's because it's safe and it works.
We understand what chemicals to use on your concrete surfaces and that's why we designed a product that would not damage your concrete, while still doing a number on ice and snow. You don't want anyone to fall or end up with a lawsuit due to your negligence. So make sure you get some Safe Paw Ice Melt to take care of this problem before it ends in a tragedy. Older people, especially, are prone to falling and you don't want to risk a serious injury. It is easy to use and does not leave any damage behind on your concrete like salt and other chemicals do.
SafePaw Ice Melter was recently awarded the PTPA Green Product Seal for its safety to the environment and that's important too.
So if you are looking for a real solution to the ice problem when the winter storms bearing down on you, keep your kids, visitors, and the environment safe with Gaia Enterprises Safe Paw™ Ice Melter. It's the perfect solution to the ice problem outside your home.
---
Other Products
---