Rock Salt Alternative That Is Better For City Infrastructure And Environment
Snow and chilly winds can be brutal. Other than cold, several risks accompany the onslaught of snow and ice, which can persist even after the ice has melted. If you're a business owner, protecting your property is a primary priority. Apart from your property, you're also responsible for making sure that you're not polluting the environment directly or indirectly.
Winter, unfortunately, may inflict significant damage to some of your most valuable belongings.
However, if you have a good plan in place for protecting your city, infrastructure, vehicles, and business equipment throughout the winter, you may avoid a lot of costly repairs. Buying a safe industrial ice melt that is non-corrosive, is the first step towards making sure that your premises are free from snow accumulation and damages.
Rusting Of Machinery
Iron oxide forms when oxygen in water molecules reacts with iron. Rust is iron oxide in its purest form. Cars, gates, tanks, and other steel or iron-containing metal forms must be carefully maintained to avoid iron oxide development, especially in outdoor conditions.
The primary cause of rusting in winter is not only wet conditions but also salt-based ice melt. The chlorides are highly corrosive and can damage metals as well as concrete. Safe Thaw is a safe ice melt. Unlike chemical-based ice melts, it doesn't damage concrete. Here are some easy methods to prevent rusting.
Get ready for winter with the ONLY Salt Free Ice Melt you can trust
Use A Salt-free Ice Melt
A chemical-free, non-toxic, and salt-free industrial ice melt is the safest option for property owners. It is free from harmful chemicals and will not corrode your machinery, vehicles, or other metal. It's safe for all surfaces. Moreover, it also includes traction, thus reducing slip and fall incidents in your premises.
Protective Coating Of Applications
Metal objects, such as tools, outdoor gear, cars, and massive metal pieces, can be protected from rusting with commercially available rust prevention treatments in the form of aerosol sprays or cloth wipes.
Regular Maintenance
Because rust spreads quickly, scraping it off as soon as it emerges is critical. Scrub with warm water and soap after scraping, and treat with a metal conditioner or other protective coating to prevent additional oxidation. Apply a fresh coat of paint to the area if necessary.
Conclusion
Most ice melt in the market has toxic and harmful chemicals in their blend. These chemicals are not only harmful to our pets and property but also pollute the environment. From roads to private and commercial vehicles, all suffer the damaging impact of salt and chemicals. To avoid ice melt corrosion, think about what your building's external walkways are made of and the areas susceptible to salt damage. If ice melt is not used properly, it can damage the wood, metal, asphalt, and concrete surfaces. Opt for a chloride-free ice melt that won't damage concrete and is non-corrosive. It will minimize rusting of your machinery and vehicle and, you can fulfill your duty as a responsible citizen by choosing a green product.
Other Ice Melt Products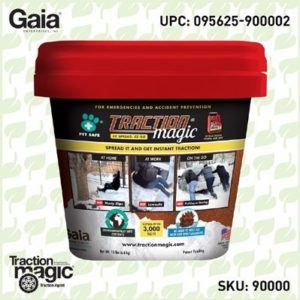 Traction Magic
Stay safe on slippery surfaces with a product that's 100% natural and safe for pets, people, and your property. Use Traction Magic on sidewalks, steps, or as instant traction for your car. Traction Magic provides instant traction on all icy surfaces.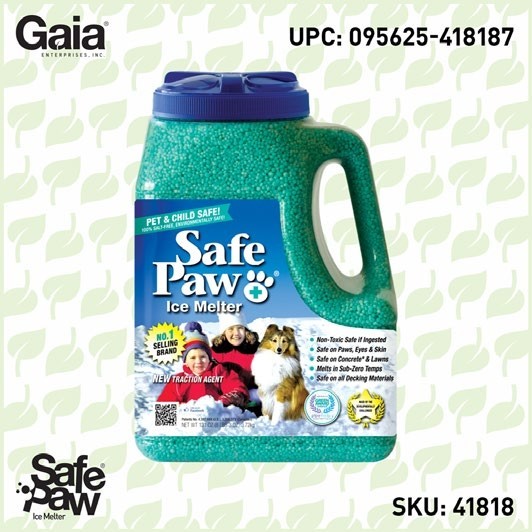 Safe Paw
Imagine an ice melt you can put down and never worry about. It won't harm animals or children, and it won't damage your property. That's Safe Paw. Unlike anything else on the market, Safe Paw can change how winter affects our planet.