Read THIS Before Buying Ice Melt In Bulk
It's critical to take the required precautions to lessen or eliminate hazardous icy conditions outside your facility before the first snowfall. A suitable ice melt is the best approach to reduce slips and falls caused by icy sidewalks, parking lots, and entryways around your business. We will help you to find a safe ice melt solution within your budget for your premises through this article.
Types of chloride-based ice melt
Calcium chloride ice melt
When compared to other ice-melt compounds, calcium chloride ice melt is the most effective in lower temperatures. It is less costly than sodium acetate but more costly than other chemicals.
When it comes in contact with ice or snow, it draws moisture and turns into a brine. The brine solution lowers the freezing point of water and generates heat, enabling the ice to melt. But the chloride formation in the process makes it unsuitable for commercial sites.
Magnesium chloride ice melt
It takes a long time to melt ice and is more expensive than other ice melt products. 
It is an exothermic compound that works well in lower temperatures. It is less corrosive than calcium chloride or sodium chloride. It damages the surfaces and machinery because of its exothermic properties.
Rock Salt
One of the most common ice melt products is sodium chloride, popularly known as rock salt.
It's also the most affordable ice melt. In frigid temperatures, rock salt is less efficient since it is endothermic. It corrodes metal, vehicles, machinery, and leaves behind a powdery residue. It is not a safe ice melt for new concrete and will leave it with irreversible damages. 
Why not use chloride-based ice melt?
Chloride-based ice melt is highly corrosive. It will corrode concrete, vehicles and cause rusting of your machinery. Chloride-based deicers are toxic to plants, soil, and water bodies. They can also damage your indoor floorings and carpets if tracked inside.
Hence, it is not a safe ice melt option for your business. Moreover, many chlorides have a short shelf life so you cannot store them for long periods. They tend to become brittle thus, losing their effectiveness.
What is the best alternative?
Carbonyl diamine and glycol-based ice melt are non-toxic and eco-friendly. It is the safest product for your concrete, driveway, parking, asphalt, vehicles, and machinery.
The area covered by concentrated pellets is twice that of rock salt. It has a long residual effect and works up to three days after the first application.
Although it is costlier than rock salt, for this, we can say that less is more. You can buy this no salt ice melt in bulk, thus saving your money, time and effort. Moreover, it has a long shelf life and can be purchased in bulk and stored for future uses. If you are looking for ice melt for new concrete, it is the best option for you.
This salt-free ice melt will keep your parking area, vehicles, machinery, and construction sites safe as it has no corrosive elements and does not cause short-circuiting.
Get ready for winter with the ONLY Salt Free Ice Melt you can trust
Conclusion
Before the first snowfall, it's best to start thinking about ice melt. Choosing the correct ice melt for your business will help you achieve the best outcomes by keeping your customers safe and your facility in good shape.
Other Ice Melt Products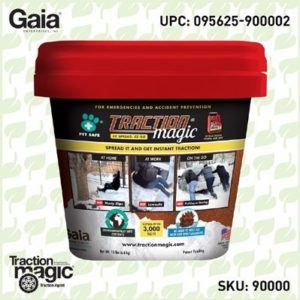 Traction Magic
Stay safe on slippery surfaces with a product that's 100% natural and safe for pets, people, and your property. Use Traction Magic on sidewalks, steps, or as instant traction for your car. Traction Magic provides instant traction on all icy surfaces.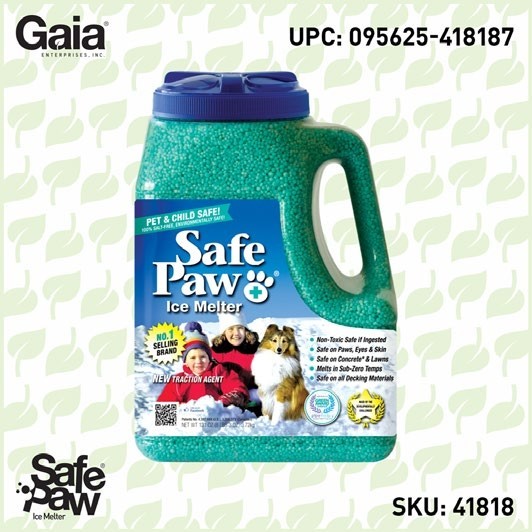 Safe Paw
Imagine an ice melt you can put down and never worry about. It won't harm animals or children, and it won't damage your property. That's Safe Paw. Unlike anything else on the market, Safe Paw can change how winter affects our planet.