Keeping Pets Safe During Winters
The winter months mean snow and ice. Whether you are enjoying snow by making a snowman or just impatiently waiting for summers, here are some quick tips to protect your furry friends in winter. We commonly use rock salt as an ice melt to get rid of the snow in our driveways and sidewalks. And, that's a concern for your pets.

Ice melting products are generally made from different kinds of salt like sodium chloride, potassium chloride, calcium chloride, and magnesium chloride. While pets don't typically ingest ice melters on purpose, your pet may become exposed if they lick their feet after walking through a recently treated area or by eating snow that may have ice melts in it.
Pet Safe Ice Melt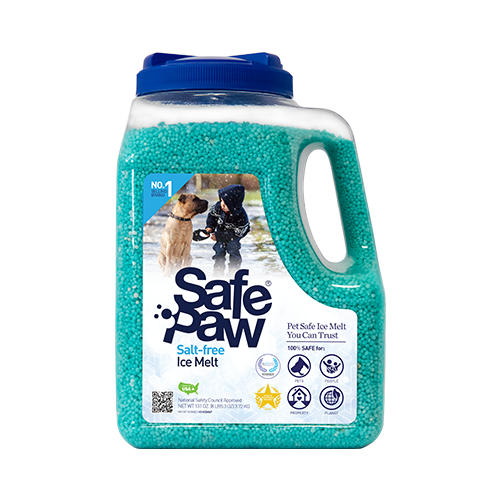 Safe Paw
The Original and the #1 Pet and Child Safe Ice Melt for over 20 years. Guaranteed environmentally safe – will not harm waterways and sensitive wetlands.
Ingesting chloride-based ice melting products can cause severe issues in pets, and sometimes you have to rush them to the veterinarians. The most common problems when a pet ingests ice melts are stomach upset, vomiting, or diarrhea. In some cases, vomiting or diarrhea can be severe and can result in dehydration. Ingesting too much of an ice melt can lead to an elevation in sodium level that can cause tremors and seizures.
Gaia Enterprises Inc. delivers 100% pet-safe and environmentally friendly winter products. Safe Paw, our flagship product, is the #1 selling pet-safe ice melt that does not harm pets, safe if ingested, and safe on all types of concrete.
Moreover, since most of these chloride-based salts produce heat due to exothermic reactions, they can cause burns and irritation in the paws of your pets.
Get ready for winter with the ONLY Pet Safe Ice Melt you can trust
But ice melts are necessary for getting rid of the treacherous layer of slippery ice that causes slip and fall accidents. Sometimes these accidents can cause severe injuries like fractures.
There are, however, a few things you can do to minimize potential problems for your pets:
Use pet-safe and environment-friendly ice melt like Safe Paw. Safe Paw is a salt-free ice melter that is a chemical-free, non-toxic ice melt. It meets the stringent requirements of the United States governmental agencies for ecological friendliness. It means that Safe Paw ice melt would not harm you, your pets, children, wildlife, or the larger environment, including your lawn and plants. Safe Paw's proprietary formula contains safe pet ice melter ingredients like glycol, which is very effective to thaw ice and prevent further freezing.
Don't let dogs eat or lick the snow outside the house that has been treated with chloride-based ice melt.
Wipe your pet's paws as soon as they get inside the house after the walk. It prevents the risk of ingestion of salt and irritation in their paws.
Immediately contact the veterinarian if the pet is showing signs of lethargy and nausea.
Keep all ice melt packaging out of the pet's reach.
Get ready for winter with the ONLY Pet Safe Ice Melt you can trust
Conclusion
Good ice melt should melt ice and keep the environment and animals safe. Safe Paw is an environment and pet-friendly ice melt that is very effective in getting rid of ice for a long time. Safe Paw uses the right safe pet ice melter ingredients to protect your pets and get rid of the dangerous ice at the same time.
Other Ice Melt Products
Safe Thaw
Imagine an ice melt you can put down and never worry about. It won't harm pets, kids and your property. That's Safe Thaw. Unlike anything else on the market, Safe Thaw can change how winter affects our planet.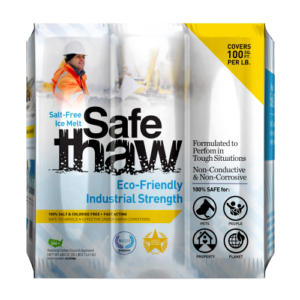 Traction Magic
Stay safe on slippery surfaces with a product that's 100% natural and safe for pets, people, and your property. Use Traction Magic on sidewalks, steps, or as instant traction for your car.