How To Choose And Apply Ice Melter On Roof This Winter In Rockford, Illinois
So, the snow season is upon us.
According to Farmer's Almanac, this winter temperatures will be much above normal, on average in Rockford. Snowfall is predicted to be below normal in most areas, with the snowiest periods in early and mid-December, mid- to late February, and early to mid-March.
Generally, during December, snow falls for 7.2 days and regularly aggregates up to 10.4" of snow in Rockford. However, this year this figure is predicted to be too low.
Less or more, soon it will be snowing all over Rockford. The beautiful-looking snow all around can severely damage your property, and we have to get ready for it. Snow falling from the sky straight on your house, roof, vehicle, and open space becomes a major concern for homeowners.
Paw Safe Ice Melt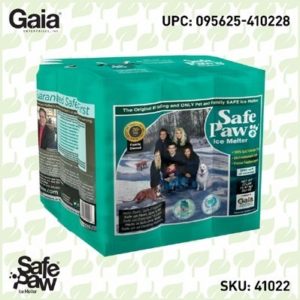 Safe Paw
The Original and the #1 Pet and Child Safe Ice melter for over 20 years. Guaranteed environmentally safe – will not harm waterways and sensitive wetlands.
How To Choose An Ice Melter For Your Roof
Most of the ice melts in the market contain sodium chloride or rock salt. Although it is easy to remove the snow from the rooftop, it certainly isn't a good option. The reason being, sodium chloride contains corrosive oxidizing agents that are suited for removing ice, but it also damages shingles, nails, and other fittings. This, in turn, can adversely affect your rooftop and make it weak.
And so you need solutions which are salt-free, chloride free, acetate free and do not contain any toxins. This will ensure that your rooftop is safe. Several products in the market are comprised of traction agents that can prevent falls and any slips. One such product is Safe paw. It has a modified crystal compound that has a dual effect when used. It melts the ice and also provides adequate protection for your roof for over three days. It also contains a special mixture of glycol. Safe Paw is also salt-free and safety of use is guaranteed.
How To Use An Ice Melt
If you are the homeowner you can easily use the ice melt yourself without any effort. However, there are some best practices of using ice melter on the roof that can further reduce the amount of time and effort it takes otherwise.
Tip 1- Spread some ice melt before the snowfall. It will prevent the snow from sticking to the surface.
Tip 2- Spread evenly on the surface after the snow. A good ice melt can help melt snow for the next three days
Tip 3- If your roof is prone to corrosion do not use products that are toxic
---
Weather Forecast
---
What Else You Can Do-
Use snow removal rakes– You can also use a solution like snow removal rakes. These tools are also effective in clearing the lighter and fluffier snow.
Use plastic shovel- metal shovels can damage the rooftop. Therefore, use plastic shovels. Start removing the snow from the ridge and work down to the caves. Use roof fall harnesses and all the gears that can help you stay safe while doing it.
---
Other Products
---