As An Owner Of 5 Cats In Ohio Here's Why I Love Safe Paw
The 2020 Annual Winter Outlook released by the National Oceanic and Atmospheric Administration (NOAA), predicts cooler than average temperatures across the Northwest and Northern Plains and a milder winter for the southern and eastern portions of the country, including the upper Ohio Valley. Wetter than normal conditions are projected from the Pacific Northwest to the Great Lakes and middle Ohio Valley region.
So, if you're a pet owner, you might be worried about all hazards ice melt can cause to your pet? So, this is the right time to think about choosing a pet-safe ice melt.Before I tell you what you should look for in an ice melt, I want to tell you why you should listen to me. So, we have indoor cats, and our neighbors take care of numerous stray cats that roam our neighborhood. I was finding some pet-friendly ice melter to put on the back stairs where we get a lot of ice.
Safe Ice Melt For Pets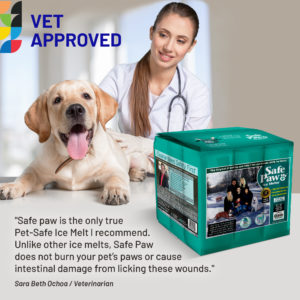 Safe Paw
The Original and the #1 Pet and Child Safe Ice Melt for over 20 years. Guaranteed environmentally safe – will not harm waterways and sensitive wetlands.
So we tried rock salt, followed by a couple of "so-called" pet-friendly ice melt products. None of these products could help me. In fact, there were multiple problems associated with each. I'll also tell you how my favorite product that I've been using for two years now is a success at each parameter. Let me explain in detail-
1. Harmful Ingredients –
Always check the label for the ingredients. Do not buy a product that contains salt or chloride in any form (Magnesium chloride, potassium chloride, calcium magnesium acetate, calcium chloride, calcium carbonate). These chemicals, if ingested can cause problems like skin irritation, eyes, nose and lung burning, and nausea. We've been using Safe Paw Ice Melter for two winters now and find it to be a good option. None of the animals in our yard or our neighbor's yard seem to be affected by it, and our indoor cats are still doing just fine.
2. Effectiveness –
Rock salt doesn't work below 20 degrees. It means that it doesn't work when you actually need it. Most ice melt in the market are chemical compounds and have chlorine in their blend, which is extremely dangerous for our cats.
Safe Paw, on the other hand, does a good job getting rid of even that thick layer of ice on our steps, walkways, around the house, and driveway. And since it contains natural ingredients, I'm never worried about my cats getting into it. It's 100 percent a pet-friendly ice melt.
---
Weather Forcast
---
3. Tracking –
I have noticed that we track it inside at times – of course, any tiny little ball will get into the grooves of your shoes. BUT – the color allows me to see it and clean it up right away. Even if they do get crushed, they're still easy to clean up with our vacuum, and they do not stain the floor or rugs, that I have seen. Just a heads up: the color does eventually leech out – the balls become white over time – but as I said, it doesn't seem to stain anything.
I recommend it for those who are concerned about tracking toxic ice melters inside or about the wildlife around your house.
---
Other Products
Traction Magic – Walk On Ice
The handy disposable canister can be taken everywhere with the same 100% naturally occurring minerals that provide instant traction on ice. Use it on sidewalks, steps, or as an instant traction agent for your car.
Safe Thaw
Imagine an ice melt you can put down and never worry about. It won't harm animals or children, and it won't damage your property. That's Safe Thaw. Unlike anything else on the market, Safe Thaw can change how winter affects our planet.
---