5 Ways To Safely Remove Ice From Your Deck
The use of an outside deck that is piled high with snow and ice layers is limited. It is in your best interest to keep your deck as free of ice and snow as possible during the winter months. Using snow and ice melt solutions and tools are various ways to do so. These include-
1-Late Autumn Is A Great Time To Get Your Deck Ready
Don't put off thinking about your deck until the first big snowstorm. During the early weeks of winter or the last weeks of fall, plan. This will prevent moisture buildup and prevent any pre-existing problems from going undiscovered under a blanket of snow.
Before the first snowflakes fall, sweep away any dirt or trash.
Planters and pots should be removed.
The Decks are usually equipped with drainage holes, which trap moisture between the pots and the deck's surface.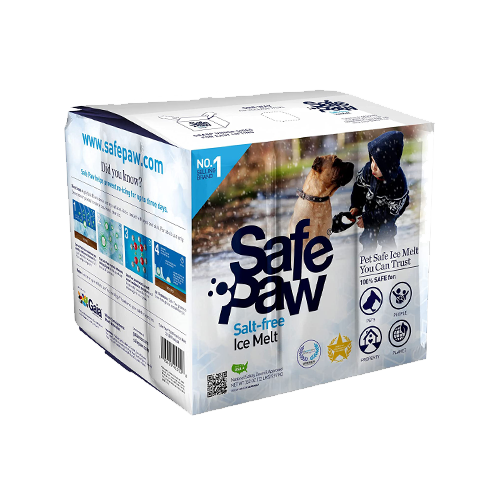 Safe Paw
The Original and the #1 Pet and Child Safe Ice Melt for over 20 years. Guaranteed environmentally safe – will not harm waterways and sensitive wetlands.
2-Chemicals, Not Salt, Are Used To Melt Ice
To remove ice from your deck boards, get an approved de-icer or ice-melting solution. It should be done with caution because of some chemicals like sodium chloride rock salt, and chlorine. They might harm or discolor the boards. Choose an ice melter that is safe for your deck board materials and use only as much as is necessary to melt the ice. A safe Paw is a great option. It's a non-toxic, pet-safe, and environmentally friendly ice melter. Salt should also be avoided since it promotes corrosion on metal nails, screws, and joist hangers, resulting in structural instability.
Get ready for winter with the ONLY Pet Safe Ice Melt you can trust
Eco-friendly And Safe Ice Melt
3-Make Use Of A Broom
Instead of breaking out the shovel for a small snowfall, use a brush. The gentle bristles will gently remove the snow from your deck without scratching it. Brooms also prevent nails and screws from being mistakenly removed from the deck, as can happen when shoveling. Shovels, brooms, ice-removal chemical solutions, and snow blowers should all be kept in a convenient location in your home.
Get ready for winter with the ONLY Pet Safe Ice Melt you can trust
4-Shovel
When there's a lot of snow, it's time to get the shovel out. As previously noted, most decks can withstand roughly three feet of snowfall before being structurally compromised. To minimize scratching or damaging the deck planks, only shovel when necessary. For further protection, use a plastic shovel with a plastic or rubber blade.
5-Snow Melting Mats Are Available For Purchase
Snow melting mats are an additional alternative. These mats are expensive, but they can assist clear a walkway or escaping path of snow and ice. Snow melting mats are simple to set up and maybe moved around throughout the season. They can also be used to keep snow off of other surfaces such as wooden deck boards, pavement, asphalt, concrete, and stone.
Gaia Enterprises Inc. delivers 100% pet-safe and environmentally friendly winter products. Safe Paw, our flagship product, is the #1 selling pet-safe ice melt that does not harm pets, safe if ingested, and safe on all types of concrete.
Conclusion
Even if it's only a few inches of light snow, a winter storm is likely to ruin your deck. Whether you've just finished building your deck or have been maintaining it for years it is advisable to use corrosion-free snow and ice melt solutions like Safe Paw.
Get ready for winter with the ONLY Pet Safe Ice Melt you can trust
Other Ice Melt Products
Safe Thaw
Imagine an ice melt you can put down and never worry about. It won't harm pets, kids and your property. That's Safe Thaw. Unlike anything else on the market, Safe Thaw can change how winter affects our planet.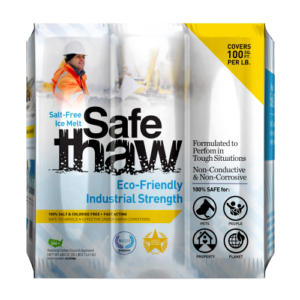 Traction Magic
Stay safe on slippery surfaces with a product that's 100% natural and safe for pets, people, and your property. Use Traction Magic on sidewalks, steps, or as instant traction for your car.