3 Ways To Keep Your New Concrete Safe This Winter
Got snow? Plenty of it? But we need to go out. We have offices and other work too. After all, we can not hibernate. But all your driveway, pavement, and sidewalk is covered with layers of snow that you have to clear before stepping out. For homeowners living in regions with high precipitation, clearing snow is a challenge.
Understanding The Concrete Better
Do you think that the concrete that takes the weight of vehicles and bears all types of weather without demanding any extra care is strong and durable? The reality is, the hard and sturdy looking concrete is vulnerable and prone to damages due to its porous nature.
Here are two big enemies of concrete:
Noxious chemicals:
Many chemicals can affect your concrete adversely, and a few of them are widely used in ice melt solutions. Therefore, when you're choosing an ice melt for new concrete, which is more vulnerable, be selective.
Freeze-Thaw Cycle:
When the water seeped in concrete freezes, it produces pressure that may result in long-term damage to your concrete driveway. Freeze-thaw damage may appear as either internal cracking or surface scaling. The most common ice melt, rock salt, only lowers the refreezing temperature to about 20 degrees Fahrenheit. It means that ice melt from rock salt will thaw and refreeze anytime the temperature fluctuates above and below 20 degrees, thus causing further damage.
Best Ice Melt For Concrete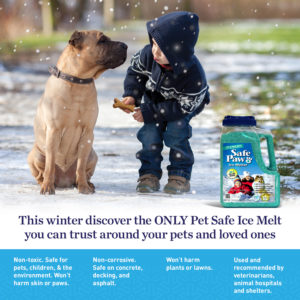 Safe Paw
The Original and the #1 Pet and Child Safe Ice Melt for over 20 years. Guaranteed environmentally safe – will not harm waterways and sensitive wetlands.
Here Are 3 Simple Ways To Keep Your New Concrete Safe This Winter
1- Shoveling- The Good Old Method
Shoveling away the snow on driveways, sidewalks, and pavements is one of the most conventional methods. It may sound a little old school, but it is one of the most popular and harmless ways to protect your concrete surfaces. However, it can be a tiring exercise and dangerous for the heart because it increases heart rate and blood pressure.
2- Using The Best Ice Melt For New Concrete
Shoveling and other manual methods of clearing the snow are tiring and consume a lot of time. On the other hand, using ice melt to clean snow is an easy and quick method. But here is a word of caution- most of the ice melts are not only poisonous but can also damage your concrete. These chloride-based ice melts are corrosive by nature. The fact is chloride causes corrosion.
So, if you're a savvy homeowner looking for the best ice melter for new concrete, driveways, and roofs, then go for a chloride-free ice melt. There are a few ice melts that are salt-free, chemical-free, and acetate-free. Since these ice melts are composed of natural ingredients like urea, they are non-corrosive, environment-friendly, and 100% safe for your plants and pets.
3- Using Track Mats
Use track mats near all entrances to avoid the chemicals of ice melt from attacking your flooring. Ice melt with sodium chloride (also called rock salt) leaves a white powdery residue that can dull the finish. Calcium chloride and magnesium chloride ice melts leave behind an oily residue that can damage urethane or wax finishes used on wood floors.
Therefore, besides using track mats, we should always opt for a good ice melt for new concrete that is free from salt and doesn't harm the surfaces.
Other Ice Melt Products
Traction Magic
Stay safe on slippery surfaces with a product that's 100% natural and safe for pets, people, and your property. Use Traction Magic on sidewalks, steps, or as instant traction for your car. Made in the USA.
Safe Thaw
Imagine an ice melt you can put down and never worry about. It won't harm animals or children, and it won't damage your property. That's Safe Thaw. Unlike anything else on the market, Safe Thaw can change how winter affects our planet.
---