3 Most Common Roof Damages Caused By Snow
The most challenging part of maintaining a commercial property is the roof. If your commercial building has a flat roof, then it's a bigger problem. Since they are flat, you have a higher chance of snow piling up on the top, clogging the pavement and gutters. Many property managers use roof ice melt to solve the problem, but that's not it. There's more to it. Choosing the right ice melt can is critical when it comes to clearing snow from your rooftop.
In this article, we will discuss the 3 most common damages that can be caused by the snow and how to deal with the problem in the right way.
3 Most Common Roof Damages Caused By Snow
Bowing– With snow, the weight on the roof increases which exerts pressure. If ignored, there is a high chance of the supports and beams to start bending and making small craters or ponds. In addition, it leads to water accumulation once the snow has melted and can render your building roof leaky and unpleasant looking. 
Electrical damage– It will further lead to electrical unit and HVAC system damage since the water tends to seep through the concrete at some point. It will cause you excess damage and make it a costly repair affair.
Freeze and Thaw cycle– During the day, the snow may melt, and the freeze-thaw process will cause cracks on the roof and the crevices. This contraction and expansion of the concrete lead to further internal damage. The use of an excellent ice melt spreader becomes necessary. 
Get ready for winter with the ONLY Salt Free Ice Melt you can trust
Can You Prevent This With A Roof Ice Melt?
The problems mentioned above can be dangerous and cause you thousands of dollars in repair. It's a wise idea to prevent the formation of snow or clear it as soon as it forms to avoid the situations mentioned above.
Using a good roof ice melt can help in this situation. However, many property managers are not aware of the harmful impacts of chemicals in those products. Most of the ice melt in the market is corrosive and has chlorine in one or the other form. This can react with the shingles and weaken your rooftop.
With Safe Thaw, you don't have to worry about any of these problems again. It does not contain any salt or choline compounds in its blends. For more clarity on how it works, you can check the chloride-free ice melt explanation on the internet as well.
It prevents the formation of icicles around the roof. You can quickly spread it and remove it with the help of a shovel without damaging the roof system in any way.
A non-corrosive material with the power of removing every trace of ice and helping you to keep your storm drains and gutters clear of ice.
Get ready for winter with the ONLY Salt Free Ice Melt you can trust
Conclusion
Safe Thaw is 100% concrete-friendly, salt-free, and chloride-free, making it the safest option in town. Even if you have water tanks on top of the roof or any pipes running around, it will not damage them. Your roof ice melt works in ways that you want it to work. 
Get your roof serviced and maintained periodically. If you have questions like how to melt ice on concrete, use Safe Thaw.
Other Ice Melt Products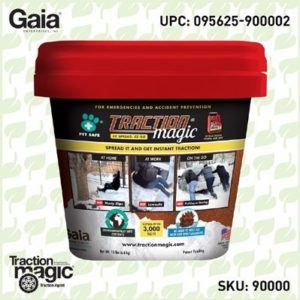 Traction Magic
Stay safe on slippery surfaces with a product that's 100% natural and safe for pets, people, and your property. Use Traction Magic on sidewalks, steps, or as instant traction for your car. Traction Magic provides instant traction on all icy surfaces.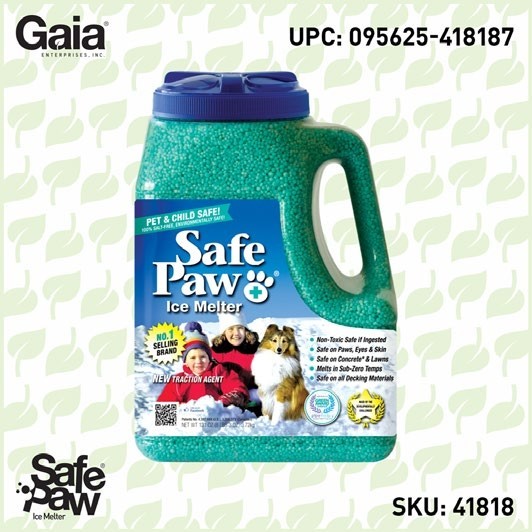 Safe Paw
Imagine an ice melt you can put down and never worry about. It won't harm animals or children, and it won't damage your property. That's Safe Paw. Unlike anything else on the market, Safe Paw can change how winter affects our planet.