The Only Ice Melt In Halifax That Prevents Ice From Refreezing
The Farmers' Almanac said it is predicting an "unseasonably mild winter for the eastern provinces including Newfoundland, Labrador, Nova Scotia, Prince Edward Island, and New Brunswick." And The Old Farmer's Almanac predicts that the precipitation and snowfall will be near to below normal in the north and above normal in the south, with the snowiest periods in mid-December, mid-January, early to mid-February, and early to mid-March.
Ice Melt On Roofs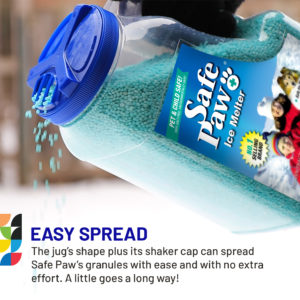 Safe Paw
The Original and the #1 Pet and Child Safe Ice Melt for over 20 years. Guaranteed environmentally safe – will not harm waterways and sensitive wetlands.
However, every day we are getting weather warnings of storms and powerful winds. Snow, rain, ice, and wind that's all we're getting.
So how are you prepared this winter for the snow?
Do you know what damages the concrete most? Here's the main enemy of concrete- the freeze-thaw cycle.
When the water seeped in concrete freezes, it produces pressure that may result in long-term damage to your concrete driveway. Freeze-thaw damage may appear as either internal cracking or surface scaling. The most common ice melt, rock salt, only lowers the refreezing temperature to about 20 degrees Fahrenheit. It means that ice melt from rock salt will thaw and refreeze anytime the temperature fluctuates above and below 20 degrees, thus causing further damage.
---
Weather Forcast
---
With this understanding, let's evaluate all the options –
1. Green Gobbler –
Green Goggler has rock salt as its main ingredient. It does the job of making your driveways and pavements ice-free, but they wreak significant damages to your concrete and leaves stains and streaks on the surface.
As the temperature fluctuates above and below 20 degrees it thaws and refreezes.
2. Safe Step, Uline, Snow Joe, etc –
These brands use chemicals like calcium chloride, magnesium chloride, and other salts.
Chloride components like calcium chloride, magnesium chloride, etc dissolve slowly. The slow dissolving rate also means that the walkway, driveway, and deck are unsafe for a longer duration. Moreover, chloride-based salts are detrimental to the concrete of your driveway and damages it. Salt is slightly acidic, and the acidity breaks down the chemical bonds essential to concrete's strength.
3. Safe Paw –
It is a patented dual-effect compound and consists of a crystalline amide core which is infused with traction agents and glycol admixture.
In general, it is designed to melt ice, prevent it from refreezing and anti-slipping traction. Safe Paw can work at temperatures as low as -2 degrees Fahrenheit.
It is a natural snow melter and is free of all harmful chemicals, corrosive salts, and dyes. So, it is safe to use around pets. Since it is free from chloride, it is the best ice melter that is concrete safe.
Safe Paw not only works quickly and melts the ice effectively, but it also prevents the snow from sticking to the surface for up to three days of its application.
Choosing the best ice melter that is concrete safe can help you extend its lifespan. So, look for an ice melt that will keep melted ice in a liquid state for a longer duration. It means that ice melt will not refreeze as easily or as often, thus preventing the freeze-thaw cycle.
---
Other Products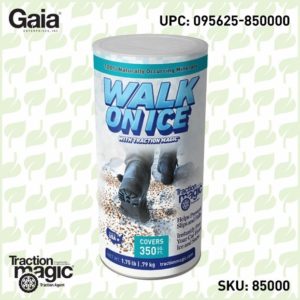 Traction Magic – Walk On Ice
The handy disposable canister can be taken everywhere with the same 100% naturally occurring minerals that provide instant traction on ice. Use it on sidewalks, steps, or as an instant traction agent for your car..
Safe Thaw
Imagine an ice melt you can put down and never worry about. It won't harm animals or children, and it won't damage your property. That's Safe Thaw. Unlike anything else on the market, Safe Thaw can change how winter affects our planet.
---