The Easy Way To Melt Ice You Never Knew About (It's Not Salt!)
The last thing you want to do in the dark and chilly months of winter is shovel ice and snow from your driveway. While rock salt is a quick remedy for slick surfaces, it isn't always easy to come by when the temps plummet.
Winterizing your home doesn't have to cost a fortune. Using the best ice melt for new concrete and other surfaces will save your money and effort. You need not worry about costly repairs and slip and fall accidents.
Cons Of Using Rock Salt
Rock salt, commonly known as sodium chloride, is used throughout the country to melt ice and prevent new ice from forming on roadways, walkways, and parking lots.
Animals may be harmed (salt exposure can cause irritated paws, dehydration, bacterial infections, and other ailments) Can hasten the corrosion of metals and cause concrete deterioration over time. When used in excess, it might harm shrubs and other plants. Salt runoff has the potential to contaminate local rivers. Only at temperatures over -10°C does it perform correctly.
Ice Melt For New Concrete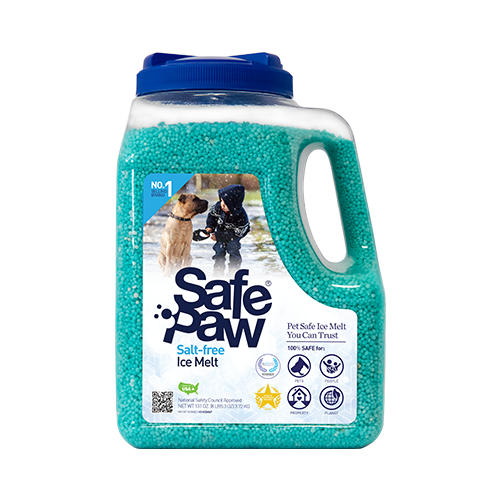 Safe Paw
The Original and the #1 Pet and Child Safe Ice Melt for over 20 years. Guaranteed environmentally safe – will not harm waterways and sensitive wetlands.
How To Melt Ice On Concrete Without Harming It?
Consider an ice melt that you can put down and forget about. It will not hurt animals or children, and it will not cause damage to your home.
The grass, plants, and greenery in your yard are all safe!
Get instant melting without the risk of causing damage to your property.
If consumed, it will not burn your paws or poison your pet.
Land and streams are both safe.
How Does It Work?
Spread this crystalline amide core with glycol ice melt anywhere ice and snow need to be melted. A deicing liquid is ejected from the crystals, speeding up the melting process. It breaks down the molecular structure of ice and snow, preventing water molecules from rebuilding into ice crystals. The core drills through ice in 10 minutes, weakening it.
Get ready for winter with the ONLY Pet Safe Ice Melt you can trust
Is It Safe?
This salt-free ice melt is, first and foremost, environmentally friendly. Once it has performed its purpose and been swept away, it will cause no harm to the surrounding rivers or land. 
It is safe to use and effective on surfaces like concrete, rubber, paint, plastic, and pavers. Your ice melter will most often be used on new concrete, but it may also be necessary to treat existing concrete, pathways, stone, or other surfaces. This ice melter is safe to use on these surfaces. It also includes a traction agent to help walking on snow and ice easier for you and your family.
Gaia Enterprises Inc. delivers 100% pet-safe and environmentally friendly winter products. Safe Paw, our flagship product, is the #1 selling pet-safe ice melt that does not harm pets, safe if ingested, and safe on all types of concrete.
Sodium chloride, potassium chloride, and magnesium chloride are common ingredients in ice melters. Some health issues that can develop in pets after swallowing chloride-based ice melters include nausea, increased urination, irregular blood pressure, dehydration, and neurological abnormalities. This natural ice melt is free from toxins and does not pose a threat to your pets and plants.
Conclusion
There is a plethora of DIY and store-bought deicing solutions. Before you purchase your ice melt, make sure you do your homework and assess the benefits and drawbacks of each option. Understand the concept behind how to melt ice on concrete safely. It also doesn't hurt to test out a tiny area first. As a responsible homeowner, get an ice melt safe for people, pets, and the environment.
Get ready for winter with the ONLY Pet Safe Ice Melt you can trust
Other Ice Melt Products
Safe Thaw
Imagine an ice melt you can put down and never worry about. It won't harm pets, kids and your property. That's Safe Thaw. Unlike anything else on the market, Safe Thaw can change how winter affects our planet.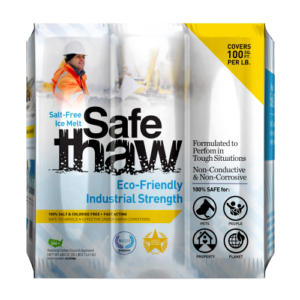 Traction Magic
Stay safe on slippery surfaces with a product that's 100% natural and safe for pets, people, and your property. Use Traction Magic on sidewalks, steps, or as instant traction for your car.