How To Pre-Treat And Prevent The Formation Of Ice
Ice formation is an inevitable part of winters, and the more intense the season gets, the more adverse are the ice conditions around. While we have a section of people asking, 'is ice melt toxic', a few people tell us it is okay if it solves the problem. We understand the dilemma you face every time you venture out to buy a deicer or even ingredients for a DIY homemade ice melter.
Let's take a quick look at ways to pre-treat the surface around your home, office, and facility.
The best way to avoid snow sticking to your driveway is to apply a specialized deicer to the concrete surface before a snowfall.
1. Use a concrete safe ice melt to spread it evenly on the surface. Most people prefer liquid deicer or granular deicer for cold conditions such as magnesium chloride or calcium chloride before the snow arrives.
2. Clear your driveway and pathway of any debris.
3. If you are not big fans of deicers, you can spread a tarp on your driveway and your facility or office yard to avoid snow from directly sticking to the surface.
4. It is best to use a salt-free and chloride-free deicer such as Safe Paw ice melter 35lbs pail before a storm. It will add traction to the surface and prevent the snow from sticking to the surface.
Get ready for winter with the ONLY Pet Safe Ice Melt you can trust
Is Ice Melt Toxic?
Yes, since it contains salt and chloride, it is slightly more toxic to the vegetation and concrete than other ingredients. However, few of them leave a whitish to bluish residue on the surface and cause irreversible damage to your vegetation. Most ice melt also burns your pets' paws.
How To Prevent Ice Formation Post A Blizzard?
1. Rake, shovel the snow, or use a snow-blower before applying the second layer of ice melt after the snowstorm passes. It will help you clear the excess build-up and make the application much more effortless.
2. Use a traction agent such as Safe Paw ice melter 35lbs pail to help you walk over an icy surface without slipping or falling. It not only keeps the surroundings clean, but it also does not stick to your shoe sole, does not burn your pets' paws', and does not leave any residue.
Gaia Enterprises Inc. delivers 100% pet-safe and environmentally friendly winter products. Safe Paw, our flagship product, is the #1 selling pet-safe ice melt that does not harm pets, safe if ingested, and safe on all types of concrete.
3. Remove snow from the tarp entirely before removing the tarp. You have to be careful as excessive snowfall may cause it to stick to the ground. Hence, you may have to use a blower to release the surface tension.
Get ready for winter with the ONLY Pet Safe Ice Melt you can trust
Conclusion
While most of us are aware ice melt is toxic, yet we continue to use it. Do not put salt on the surface even though it is cheaper as it will damage it later. Instead of wasting time and energy on repairing and redoing your driveway and premises every winter, use an eco-friendly option– Safe Paw ice melter 35lbs pail that is economical, convenient, and easy-to-handle.
Get ready for winter with the ONLY Pet Safe Ice Melt you can trust
Other Ice Melt Products
Safe Thaw
Imagine an ice melt you can put down and never worry about. It won't harm pets, kids and your property. That's Safe Thaw. Unlike anything else on the market, Safe Thaw can change how winter affects our planet.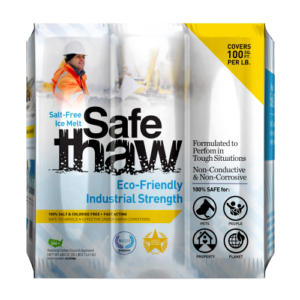 Traction Magic
Stay safe on slippery surfaces with a product that's 100% natural and safe for pets, people, and your property. Use Traction Magic on sidewalks, steps, or as instant traction for your car.