Honest Review Of 5 Incredible Snow Removal Tools
You will need the right snow removal equipment on hand whether you have a record-breaking snowstorm or simply a dusting of snow to turn the world into a winter wonder. We've compiled a list of some tools for getting through the snowfall through the last ice storm before spring. These are the equipment for making the work easier, safe from slip and falls, and less back-breaking when you need to clean your driveway and walkways. Our five incredible snow removal tools include a shovel, paw-safe ice melt, broom, scraper, windshield cover, and spikes.
Snow Shovel
You should expect a lot of frustration — and back discomfort — if you don't have a good snow shovel. As per the reviews, a snow shovel works well for light snow and small areas. Some users complained that the moist snow was sticking to the shovel blade. It wouldn't come off even when the blade was turned upside down and thumped on the ground.
Ice Melt
Ice melt lessens the snow accumulation and makes it easier to remove it from walkways and driveways.
Despite the statements on the label of most rock salts, rock salt is not safe for dogs or concrete. According to the reviews, it can be disastrous for pets, metals and surfaces. A natural, salt-free ice melt like Safe Paw prevents the accumulation of snow in your premises. It also keeps people and pets safe and happy. Safe paw ingredients are environmentally friendly amide core and glycol.
Get ready for winter with the ONLY Pet Safe Ice Melt you can trust
Broom
When it comes to cleaning snow off cars, a decent broom is essential. When the snow isn't too deep or heavy, it can also be used to clear small areas. But many customers have found it to be ineffective while removing heavy snow. Moreover, according to the customers, sometimes they have found bristles too soft or hard for their liking.
Ice Scraper
Having two scrapers, one short and one long is a good idea. According to the reviews, this ice scraper combo is ideal for swiftly cleaning a dusting of snow off the hood and roof. But be cautious of the pressure you apply on it as some customers complained of scratches on the windshield after using it.
Ice Melt On Driveway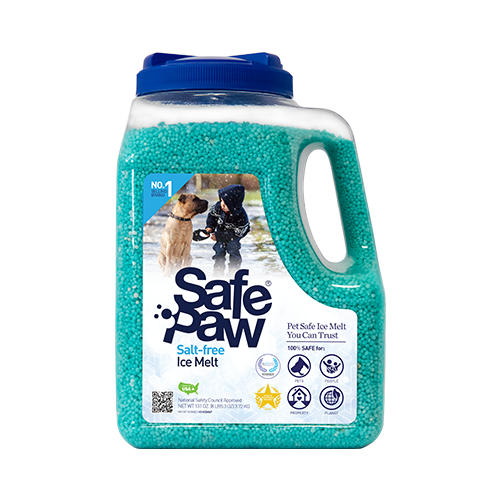 Safe Paw
The Original and the #1 Pet and Child Safe Ice Melt for over 20 years. Guaranteed environmentally safe – will not harm waterways and sensitive wetlands.
Cover For The Windshield
Reviewers have used this cover successfully to prevent snow accumulation on their windshield before a snowstorm. But it works only on the windscreen, not on the car roof or around the tires.
Gaia Enterprises Inc. delivers 100% pet-safe and environmentally friendly winter products. Safe Paw, our flagship product, is the #1 selling pet-safe ice melt that does not harm pets, safe if ingested, and safe on all types of concrete.
Spikes For Ice
Spikes make it possible to run in a range of conditions, including steep snowfields. Snow spikes for shoes are available in a wide range of styles and spike counts. According to the reviews, spikes work well in preventing slip and falls in snowy terrain but can cause slippery conditions in the internal floorings.
Get ready for winter with the ONLY Pet Safe Ice Melt you can trust
Conclusion
Even if inches of snow turn into feet, these items will assist you in maintaining control. Even if you don't get much snow in your vicinity, having a shovel and safe ice melt in your yard or garage in case of a rare snowstorm could be useful. Safe Paw ingredients form an impenetrable barrier that keeps ice from sticking to surfaces.
Other Ice Melt Products
Safe Thaw
Imagine an ice melt you can put down and never worry about. It won't harm pets, kids and your property. That's Safe Thaw. Unlike anything else on the market, Safe Thaw can change how winter affects our planet.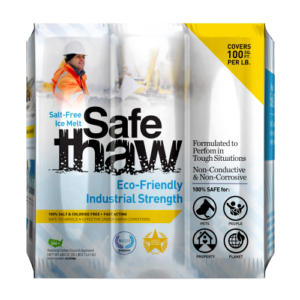 Traction Magic
Stay safe on slippery surfaces with a product that's 100% natural and safe for pets, people, and your property. Use Traction Magic on sidewalks, steps, or as instant traction for your car.