Does Safe Paw Work On New Concrete?
If you are looking for the best new concrete deicer, consider your surroundings, temperatures, and the melting agent's corrosive qualities. Chloride-free ice melter products are not only safer for your furry friends, but they are also better for the environment and less corrosive to concrete and metal. Because no salt substances are used in these products, your pets and concrete will be far less likely to become sick. Safe Paws ice melter is unlike any other on the market and is safe for new concrete, pets, and people.
Gaia Enterprises Inc. delivers 100% pet-safe and environmentally friendly winter products. Safe Paw, our flagship product, is the #1 selling pet-safe ice melt that does not harm pets, safe if ingested, and safe on all types of concrete.
How Does Concrete Get Damaged Because Of Snow?
The porous concrete absorbs the melted ice and snow (slush) left on the surface. When this liquid (melted snow) re-freezes in the pore structure of the concrete, it expands, causing the surface to pop off and cause scaling. Safe Paw has a long-lasting effect and decreases the freeze-thaw cycle, thus, safeguarding your concrete that is less than a year old.
Get ready for winter with the ONLY Pet Safe Ice Melt you can trust
Ice Melt Safe For New Concrete
Safe Paw has several advantages versus salt when it comes to new concrete. First and foremost, Safe Paw is eco-friendly. It will cause no harm to surround rivers or land once it has completed its task and has been swept away.
All surfaces, including concrete, rubber, paint, plastic, and pavers, are safe to use. You'll probably want to use your ice melter on fresh concrete, but you might also need to treat existing concrete, walkways, stone, or other surfaces. You can safely use Safe paw ice melter on these surfaces.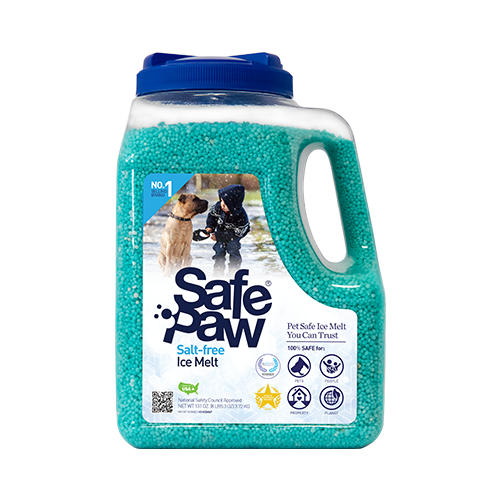 Safe Paw
The Original and the #1 Pet and Child Safe Ice Melt for over 20 years. Guaranteed environmentally safe – will not harm waterways and sensitive wetlands.
When you use Safe Paw, you receive a timed-release action because it's made of a modified crystalline amide core that's laced with a glycol admixture. First, the ice begins to melt almost instantly, breaking the surface tension. The product's core then destabilizes the ice, allowing it to melt more quickly. At the same time, a traction agent is incorporated to make walking on snow and ice simpler for you and your family.
Other Ice Melts
Rock salt or sodium chloride is the most common element in ice melt. It attacks the metal rebar within the concrete. It is equally damaging to the plants, soil, animals, and groundwater in the surrounding area.
Calcium chloride creates an oily layer on the surface, discoloring the concrete. Other dangerous ice melt chemicals include magnesium chloride, ammonium nitrate, and ammonium sulfate. These chemicals damage the concrete and cause scaling and pop-outs.
Calcium magnesium acetate tends to leave a slush behind, making your new concrete more susceptible to freeze-thaw damage.
Ice melts at a much slower rate with potassium chloride compared with other ice dissolvers. It will neither prevent slips or falls nor will it clear snow off the concrete. Both kitty litter and sand can aid with traction, but they are not effective in melting ice.
Conclusion
Most ice melters contain a combination of sodium chloride, potassium chloride, and magnesium chloride. Nausea, increased urination, abnormal blood pressure, dehydration, and neurological difficulties are some of the health issues that can occur in pets after swallowing chloride-based ice melters. Safe paws are safe for people, pets, and ecology.
Get ready for winter with the ONLY Pet Safe Ice Melt you can trust
Other Ice Melt Products
Safe Thaw
Imagine an ice melt you can put down and never worry about. It won't harm pets, kids and your property. That's Safe Thaw. Unlike anything else on the market, Safe Thaw can change how winter affects our planet.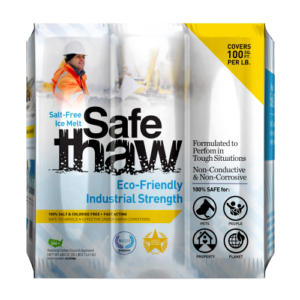 Traction Magic
Stay safe on slippery surfaces with a product that's 100% natural and safe for pets, people, and your property. Use Traction Magic on sidewalks, steps, or as instant traction for your car.