Best Tips For Applying Ice Melt On Your Driveway
You cannot get rid of snow by simply sprinkling salt or ice melt all over your driveway. Applying an ice melt is more than that.
In this article, we will discuss the 4 best tips on applying ice melt on your driveway.
1. Remove The Snow
Many people start applying right after the snowfalls. This is wrong. Most people are unaware of how critical it is to get rid of the snow first before beginning the deicing process.
2. Spread The Ice Melt Evenly
Putting too much salt in one place may result in the wastage of your product without even getting the result. The fact is that most ice has a thin layer of water on it. The salt reacts with the water, causing a chain reaction that helps the ice melt even in colder temperatures. So, if you spread the product evenly with a tool, you will not find patches of snow left even after applying the ice melt.
Get ready for winter with the ONLY Pet Safe Ice Melt you can trust
For this purpose, you can use wheeled or handheld spreaders. These are easily available in the market, and they evenly coat the ground with salt or ice melt.
It takes less time than manually salting your driveway. Make sure you rinse it thoroughly after each use. You'll have to throw salt or ice melt around your driveway by hand if you don't have a spreader. Instead, you can use a cup.
Get ready for winter with the ONLY Pet Safe Ice Melt you can trust
3. Use A Chemical-Free Ice Melt
Chemical-based or salt-based ice melt products can cause permanent damage to your driveway. Too much salt or ice melt causes the thawing/freezing process.
Avoid using salt or ice melt if your concrete is less than a year old. It has the potential to weaken the concrete and make it more vulnerable to future damage. 
Get ready for winter with the ONLY Pet Safe Ice Melt you can trust
Many people use sand, kitty litter, or sawdust to add traction to the driveway. However, it is also a messy solution. Many people ask, does rubbing alcohol melt ice?' It does but Rubbing alcohol is bad for dogs and other pets. It can cause vomiting, confusion, incoordination, collapse, respiratory depression, and seizures in pets if consumed. Therefore, you must use a safe pet ice melter.
Safe Paw is a non-toxic, chemical-free ice melt that doesn't damage your concrete. Avoid getting any on your lawn or plants. Before you go out and deice your driveway, make sure you read and follow the directions on whatever type of salt or ice melt you're using.
4. Make Sure Your Loved Ones Are Safe
Wise homeowners aren't spreading ice melt because they know it has a high risk of damaging their expensive investment or, worse, poisoning people and pets. Any chloride-containing substance, such as sodium chloride, potassium chloride, or calcium chloride, should never be used on new concrete. By widening the pore size and allowing water to pass through, these slightly acidic compounds degrade the paste that holds concrete together.
The frequency of freeze-thaw cycles increases when salt penetrates the pore structure, causing concrete damage. They can cause corrosion of reinforcing steel because they quickly penetrate the thin, protective iron oxide layer and start the corrosive reaction. As a result, this is not a driveway salt that is safe to use.
To Conclude
Hope you got the answer to your query- 'does rubbing alcohol melt ice?' A natural salt-free ice melt is the safest option for your driveway and walkway. Safe Paw has a patented outer layer that liquefies on contact with the ice surface and melts it quickly.
Gaia Enterprises Inc. delivers 100% pet-safe and environmentally friendly winter products. Safe Paw, our flagship product, is the #1 selling pet-safe ice melt that does not harm pets, safe if ingested, and safe on all types of concrete.
Other Ice Melt Products
Safe Thaw
Imagine an ice melt you can put down and never worry about. It won't harm pets, kids and your property. That's Safe Thaw. Unlike anything else on the market, Safe Thaw can change how winter affects our planet.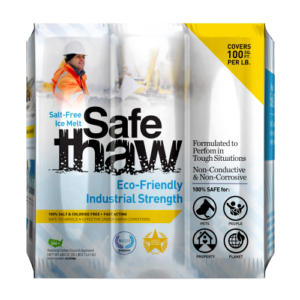 Traction Magic
Stay safe on slippery surfaces with a product that's 100% natural and safe for pets, people, and your property. Use Traction Magic on sidewalks, steps, or as instant traction for your car.