Key Difference In Various Ice Melt Products
While keeping employees, guests, driveways, parking, machinery safe is a numero uno priority during icy weather, it is equally critical to choose an ice melt that won't hurt pets, plants, or waterways.
Some chemicals erode concrete, roads, bridges, machinery, and automobiles. And some deicing chemicals harden the soil and make it too salty for plant growth, while others overburden it with nutrients, causing oxygen levels in neighboring streams and ponds to drop.
Many property managers and business owners are dealing with the tricky choice of getting the best ice melt for their business. What's the difference between the dozen brands of ice melt pellets in the market today?
Here are the key differences between various commercial ice melt.
Snow Joe AZ-25-EB Melt-2-Go
It is a low-cost and environmentally friendly formula. While the manufacturer states that this product is safe for use, some users have reported that it contains chlorides. These chlorides can damage your machinery by causing rusting. The particles can be caught between paw pads of animals and react with moisture to create high temperatures that can cause burns.
Safe Thaw Industrial Strength Ice Melt
It is an ice melt that you can put down and forget. It is non-conductive and non-corrosive. There will be no harm to delicate machinery, and there will be no danger of short circuits. Its ice melt pellets will provide traction, thus reducing your premise's liability. It can cover a large area while giving you a long-lasting residual effect.
It will not hurt animals or the environment and will not cause damage to your building. It is non-toxic and biodegradable with a long shelf life. It's guaranteed to melt below -2°F.
Get ready for winter with the ONLY Salt And Chloride Free Ice Melt you can trust
Green Gobbler Pet Safe Ice Melt
This magnesium chloride compound from the Dead Sea is a low-toxicity remedy to ice and snow buildup that works by creating exothermic heat. Its exothermic reaction can damage the machinery by causing unnecessary heat around them. It is also costlier in comparison to other ice melt solutions. Moreover, its ice melt pellets have a short shelf life. Hence, they can neither be stored for long periods nor bought in bulk.
The Redmond Ice Slicer
This eco-friendly product contains less chloride than traditional rock salt. It can leave a crimson stain on surfaces and make them look messy. Frequent use of this ice melt will surely leave your driveway and walkway discolored, and no business would like to welcome their visitors with an ugly entrance.
Power thaw industrial-strength ice melt
It contains a medium-sized granular blend comprising sodium chloride, calcium chloride, magnesium chloride, and AMC. Power Thaw is a blue-dyed substance that is easily visible and allows for correct application. As this product has a blend of chloride salts, it inherits the corrosive property and affects your machinery and concrete. It cannot be termed safe for the environment and pets also.
Conclusion
When it comes to keeping people safe from dangerous ice formation, your commercial property's needs are different from those of the neighboring sites. Choose an ice melt that will keep you away from winter hazards and give you enough time to plan your business rather than dealing with slippery and snowy entrances.
Other Ice Melt Products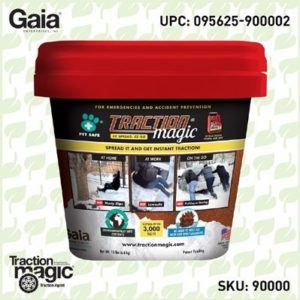 Traction Magic
Stay safe on slippery surfaces with a product that's 100% natural and safe for pets, people, and your property. Use Traction Magic on sidewalks, steps, or as instant traction for your car. Traction Magic provides instant traction on all icy surfaces.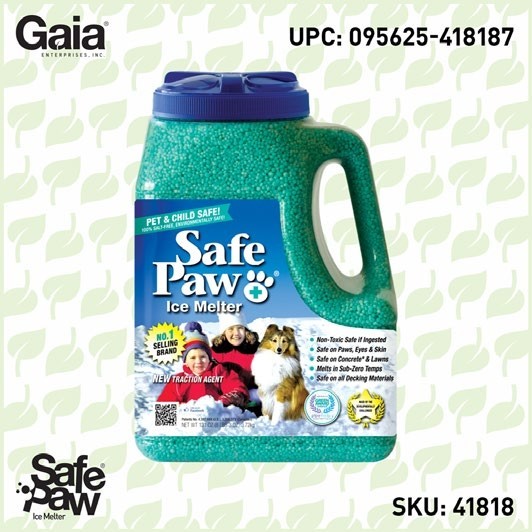 Safe Paw
Imagine an ice melt you can put down and never worry about. It won't harm animals or children, and it won't damage your property. That's Safe Paw. Unlike anything else on the market, Safe Paw can change how winter affects our planet.