How To Manage Different Types Of Snowfall In Winter
We may get dry snow or wet snow depending on the weather patterns on a given day. During the winter, we may expect a variety of weather occurrences, and being prepared for them is a vital element of an efficient winter management plan for homeowners. Ice melts are the best option to deal with snow accumulation in winter after a snowfall. But before buying an ice melt, we need to ensure that the ice melt is safe for roof shingles, concrete, pets, and plants. So, here are some ways to manage different types of snowfall.
Types of Snowfall
Freezing rain: When the layer of freezing air along the surface is so thin that raindrops don't have enough time to freeze before hitting the ground, freezing rain happens.
Sleet: Sleet is formed when the layer of freezing air along the surface is thicker than the raindrops, forcing the raindrops to freeze before reaching the ground.
Snow flurry: A snow flurry is snow that falls in bursts of different intensity for short periods.
Snowstorm: A snowstorm is a large volume of snow that falls in a short period. A blizzard is a severe winter storm with subfreezing temperatures and strong winds that lasts at least three hours.
Fortunately, with some wintery expertise, you can deal with these wintry circumstances quickly and easily.
Ice Melt For Concrete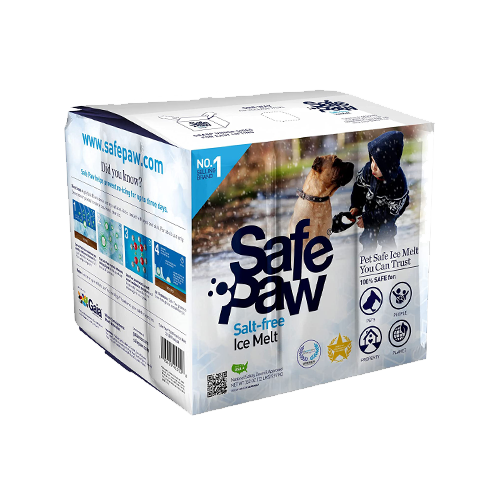 Safe Paw
The Original and the #1 Pet and Child Safe Ice Melt for over 20 years. Guaranteed environmentally safe – will not harm waterways and sensitive wetlands.
Ice Melt
Ice melt effectively removes ice and is more efficient than plowing or shoveling. Pushing snow away might leave a layer of ice behind, especially if the flakes are wet and could freeze over. Whereas, a long-lasting salt-free ice melt will give you complete and long-lasting protection from snow accumulation.
There are many variants of ice melts available in the market. Most of them have chloride as their main constituents. All chloride-based melters, including potassium chloride ice melt products, are corrosive and hazardous to the environment and infrastructure.
If snowfall is less than an inch, there is usually no need to clear or plow because de-icers will do the hard job of melting the snow before it causes problems.
Get ready for winter with the ONLY Pet Safe Ice Melt you can trust
V-plow
If you're dealing with ice, sleet, or heavy snow, use a V-plow. It creates cracks in the ice and moves it out of the way quickly.
Snow Shovel 
If you only need to cover a limited area, you may choose to shovel loose snowfall. It can reduce the time it takes to start huge cars and eliminate the need for gasoline.
Snow Pusher
When dealing with thick or wet snow, a snow pusher can come in handy. Pushers lack the adaptability of plows since they only travel in straight lines rather than at angles.
Get ready for winter with the ONLY Pet Safe Ice Melt you can trust
Snow Bucket
Buckets are ideal for unpaved surfaces or for scooping snow rather than pushing it. When dealing with loose snow, use a bucket. This device should operate with anything that isn't too icy or damp.
Gaia Enterprises Inc. delivers 100% pet-safe and environmentally friendly winter products. Safe Paw, our flagship product, is the #1 selling pet-safe ice melt that does not harm pets, safe if ingested, and safe on all types of concrete.
Conclusion
Ice melt prevents ice from sticking to surfaces, which can cause slipping dangers. They also decrease your risk of going out in heavy snow to shovel. The salt-based de-icers, like sodium chloride or potassium chloride ice melt products, can damage your roof and concrete. Hence, while buying ice melt, look at the ingredients to ensure that you are getting a safe green ice melt.
Get ready for winter with the ONLY Pet Safe Ice Melt you can trust
Other Ice Melt Products
Safe Thaw
Imagine an ice melt you can put down and never worry about. It won't harm pets, kids and your property. That's Safe Thaw. Unlike anything else on the market, Safe Thaw can change how winter affects our planet.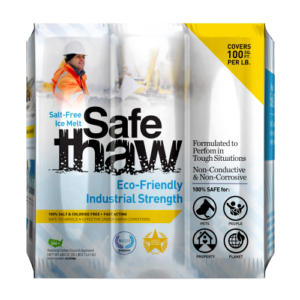 Traction Magic
Stay safe on slippery surfaces with a product that's 100% natural and safe for pets, people, and your property. Use Traction Magic on sidewalks, steps, or as instant traction for your car.