Damage Of Driveway Due To Rock Salt And Cost Of Repair
One of the most harmful chemicals that will ever come into touch with your concrete driveway is rock salt (sodium chloride). It hastens the deterioration of your concrete pavements caused by winter's freeze-thaw cycles and reduces their lifespan. Asphalt is similar, though to a much smaller extent.
If you used rock salt on a concrete driveway or walkways or steps, you're likely to observe substantial damage. The effective ice melt temperature also plays a crucial role in decreasing the freeze-thaw cycle.
How Does Rock Salt Damage Your Driveway?
Concrete is a porous substance. It absorbs water as well as rock salt as the ice melts back into liquid form. The concrete cracks as the melted water expands and exerts internal pressure. Concrete infused with rock salt can hold more water, making it more prone to cracking and breaking. Because it cannot sustain the strain, newly built concrete is even more vulnerable to harm.
Ice Melt For Driveways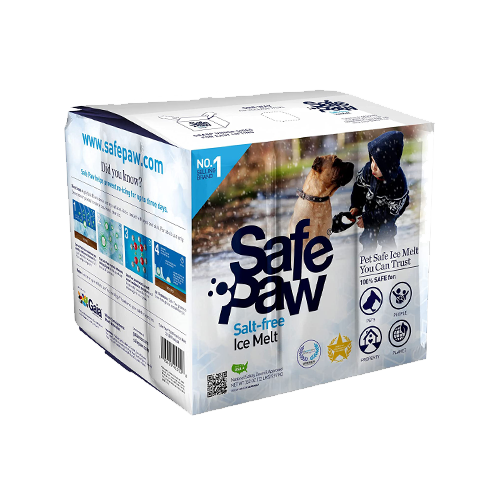 Safe Paw
The Original and the #1 Pet and Child Safe Ice Melt for over 20 years. Guaranteed environmentally safe – will not harm waterways and sensitive wetlands.
Asphalt is less porous than concrete, however, any fractures or fissures on the surface will enable rock salt and water to enter, causing the same internal damage.
In addition to the physical harm that rock salt causes to the roadways, it can also be damaging in other ways. With a rise in cracks, potholes, and traces of patched-up surface repairs, affected regions may lose their visual appeal. Rock salt that flies up and attaches to the underside of a car, van, or truck can corrode and degrade the surfaces it comes into contact with. Rock salt is also toxic for your pets and plants.
You can stop this damage by using a salt-free green product. Safe paw, non-toxic ice melter is pet safe, non-corrosive, and environmentally friendly.
Get ready for winter with the ONLY Pet Safe Ice Melt you can trust
Cost Of Repair
Putting a Patch in a Driveway
You'll want to mend any cracks in your driveway as soon as possible if they're expanding. Patching entails using asphalt or concrete sealant to fix small gaps or cracks. The patch material costs $2 to $3 per square foot, plus an asphalt squeegee costs around $40. Patching is more of a short-term option that only heals minor cracks less than one-quarter-inch wide.
Replacing the driveway
For driveways with extensive deterioration, such as deep cracks, pits, and potholes, replacing it is the best alternative. However, this option will be more expensive than patching or resurfacing. 
Gaia Enterprises Inc. delivers 100% pet-safe and environmentally friendly winter products. Safe Paw, our flagship product, is the #1 selling pet-safe ice melt that does not harm pets, safe if ingested, and safe on all types of concrete.
It is the most expensive option. The cost of replacing an asphalt driveway can range from $15 per square foot to $4,500 on average. A concrete driveway might cost anything from $2,000 to $7,000.
Get ready for winter with the ONLY Pet Safe Ice Melt you can trust
Conclusion
The good news is that de-icing frozen roads and infrastructure does not require the use of rock salt. Safe Paw non-toxic ice melter is pet safe and organic. It is salt-free and won't harm surfaces or release hazardous chemicals into the environment.
Get ready for winter with the ONLY Pet Safe Ice Melt you can trust
Other Ice Melt Products
Safe Thaw
Imagine an ice melt you can put down and never worry about. It won't harm pets, kids and your property. That's Safe Thaw. Unlike anything else on the market, Safe Thaw can change how winter affects our planet.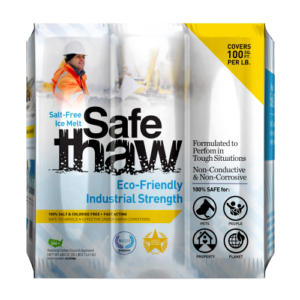 Traction Magic
Stay safe on slippery surfaces with a product that's 100% natural and safe for pets, people, and your property. Use Traction Magic on sidewalks, steps, or as instant traction for your car.