Toronto, Know Your Ice Melt: Expectation Vs Reality
In this winter season, Toronto has not seen any major winter storm since November, but the streak has finally been broken by the massive snowstorm in the last week of January 2021. It's one of the biggest weather events Toronto has seen this season. People have been taking on social media, sharing photos and videos of the snow. People were excited about the first snowstorm of the season and enjoyed the view sitting comfortably in their homes due to lockdowns. After the snowstorm, the beautiful white landscape looks beautiful. People get in celebration mode, where the adults, kids, and even pets enjoy playing with snowballs, making a snowman, and walking on the snow.
Safe Ice Melt For Pets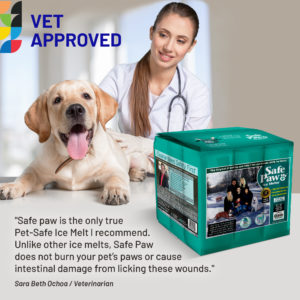 Safe Paw
The Original and the #1 Pet and Child Safe Ice Melt for over 20 years. Guaranteed environmentally safe – will not harm waterways and sensitive wetlands.
So, what are all the solutions to melt the snow? And what happens when you try each one of them? Let's see.
Shoveling:
Traditionally, the most common method to get rid of the snow has been shoveling.
Expectation: You'll stretch your muscles, wax your shovel blade, and clean right down to the ground. Yes!
Reality: It doesn't take you long to realize that shoveling isn't easy. Not only does it require a lot of strength, but it can take a toll on your health too.
Ice Melt:
Unlike shoveling, using ice melter for a concrete driveway is an easy and quick method.
Expectation: You'll take out your bag of ice melt and spray it all over the open area.
Reality: The chemicals present in the ice melt start causing skin irritation. It burns the delicate paws of your pet, destroys your landscape, and corrodes your property.
Did you know that using salt-based ice melter for concrete damages its surface and reduces the life of the driveway? Salt traces left on the surface causes stains and streaks. The real problem starts when it creeps into the porous concrete and breaks it with frequent freeze-thaw cycles.
The new concrete driveways are more susceptible to these kinds of damages. Therefore, avoid using salt-based ice melt on the new concrete. New homeowners concerned about their new concrete are always on the lookout for a safe ice melt for new concrete.
Snow Blowers:
Snowblowers are machines used to remove snow from the driveways with much less physical effort.
Expectation: you'll sit comfortably and blow the snow off effortlessly in no time.
Reality: You didn't realize you can't go far with a cord attached and that the discharge chute can spew projectiles.
Traction Agents:
These traction agents don't melt ice, but increase the friction on the icy layer, and decrease the chances of any slip and fall accidents.
Expectation: So, you thought why melt ice at all. Why not use a traction agent like sand, kitty litter, etc.
Reality: Most of the traction agents cause a mess. It sticks to your shoes and then spoils all your rugs and carpets. On top of it, you have to do some cleaning once the ice layer melts.
Non-corrosive Ice Melt For Concrete:
There are some non-chloride ice melter for concrete available in the market that are non-toxic, pet-friendly, and non-corrosive.
Expectation: You'll finally be able to clear the snow without causing efflorescence or leaving crystal deposits. They are also safe for plants & vegetation, and pets.
Reality: Guess what? Same as expectation! Because these are salt-free, chemical-free, and acetate-free. Since these ice melt are composed of natural ingredients like urea, they are non-corrosive, environment-friendly, and 100% safe for your plants and pets.
So, if you're a savvy homeowner looking for the best ice melter for new concrete, driveways, and roofs, then go for a chloride-free ice melt.
---
Other Products
Traction Magic – Walk On Ice
The handy disposable canister can be taken everywhere with the same 100% naturally occurring minerals that provide instant traction on ice. Use it on sidewalks, steps, or as an instant traction agent for your car.
Safe Thaw
Imagine an ice melt you can put down and never worry about. It won't harm animals or children, and it won't damage your property. That's Safe Thaw. Unlike anything else on the market, Safe Thaw can change how winter affects our planet.
---