Tips For Driving In Snow
Snowy circumstances can make driving difficult and even dangerous, resulting in an accident. With this in mind, it is critical to prepare yourself before embarking on a snowy adventure.
You need to understand how to prepare yourself and your vehicle for driving in inclement weather. At the same time, you need to be aware of things to carry in your car for winter driving, including a shovel, safe paw ice melt, food, water, blanket, etc.
Here Are Some Tips And Time-Tested Approaches For Driving In Snow.
Make A Journey Plan
Plan your route thoroughly before you go. Think about regions that will be exposed to the weather and may be prone to flooding. Make sure you're up to date on the weather in your area so you don't get caught off guard.
Give Yourself More Time
Allow extra time than usual before leaving to clean snow from your car windows, mirrors, lights, and the top of your roof. You need to clean the vehicle's windscreen from snow before starting your journey. You can use salt-free, environmentally friendly, safe paw ice melt for keeping snow away from your car.
Get ready for winter with the ONLY Pet Safe Ice Melt you can trust
Drive Incredibly Smoothly
Smooth steering, acceleration, and braking are essential for safe driving in the snow. Jerky control motions quickly unstick tires that have a tenuous hold on the slick road. Thus every wheel rotation, brake application, and throttle movement must be careful, smooth, and slow.
Take A Long Look Ahead
The slicker the road becomes, the further down you should look—and consider. For turns, take it slowly. When the road is wet, allow twice the stopping distance, treble on snow, and much more on ice.
Examine Your Wipers
Before turning the engine on, make sure any auto wiper controls are turned off since this could blow the wiper control fuse if they are frozen on the screen. Your wipers must be in good operating order to clear your windscreen.
Ice Melt Concrete Safe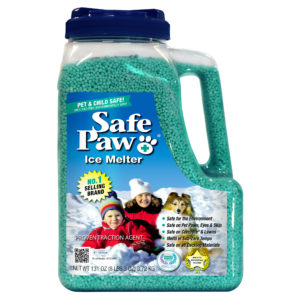 Safe Paw
The Original and the #1 Pet and Child Safe Ice Melt for over 20 years. Guaranteed environmentally safe – will not harm waterways and sensitive wetlands.
Make Sure Your Tires Are In Good Shape
Make sure your tires have enough tread. When driving on snow and ice, poor tires will not grip. If you reside in a snowy area, you might consider switching to winter tires with a deeper tread. If the weather is poor, you may want to consider using snow socks or perhaps snow chains.
Be Prepared For The Worst
Make sure your car has the following items: a torch, a hi-vis vest to keep you visible if you break down, a blanket to keep you warm, some food, a drink, spare screen wash, ice scraper, blanket, shovel, phone charger, map, and a first aid kit. Another critical item for your emergency kit is the Safe Paw ice melt. It works well on all surfaces and also provides traction while being safe for people and pets.
Conclusion
Maintain the cleanliness of your vehicle. Because the salt used to de-ice roadways can create corrosion over time, it's vital to clean your automobile regularly during the winter months. You need to be aware of the pros and cons of different ice melt solutions. Opt for the ice melt that is free from corrosive chemicals and is entirely safe for your vehicle and parking area.
Get ready for winter with the ONLY Pet Safe Ice Melt you can trust
Other Ice Melt Products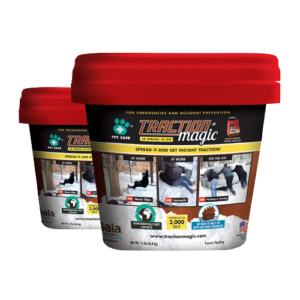 Traction Magic
Stay safe on slippery surfaces with a product that's 100% natural and safe for pets, people, and your property. Use Traction Magic on sidewalks, steps, or as instant traction for your car. Made in the USA.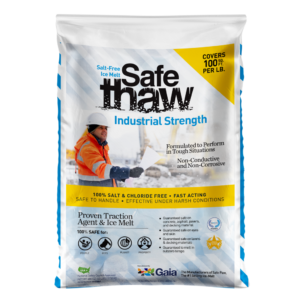 Safe Thaw
Imagine an ice melt you can put down and never worry about. It won't harm pets, kids and your property. That's Safe Thaw. Unlike anything else on the market, Safe Thaw can change how winter affects our planet.
---