Tips For Applying Ice Melt Correctly On The Surface
To keep your guests, grounds, and facility safe this winter, make sure you have the ice melt comparison of supplies you need and understand when and how to apply ice melt properly. Use and apply ice melt safely by following these six simple tips.
1- Do Not Leave It Until The Last Possible Moment.
You should not only buy ahead of time, but you should also treat surfaces ahead of time. Because it prevents ice from bonding to the surface, you won't need as much product in the long run if you pretreat. If the surfaces are pretreated before icing, ice melt is much more effective. Ice melt should also be applied before, during, and after winter storms to ensure maximum and long-term deicing results. Staying on top of the situation can result in cost savings in terms of product and labor.
2- Do Not Waste Money On Ice Melt That's Too Cheap.
Make sure you're using the right kind of ice melt in the right amount for your environment and application. The most common ice melt customer mistake is purchasing a product that is not suitable for their specific ice melting requirements. Investigate ice melt formulas to fully comprehend their melting temperatures, as well as the potential for concrete and vegetation damage. For interesting clinical and pharmacological effects and lower tissue toxicity, magnesium ice melt is recommended. Poor, low-cost ice melt formulas cause millions of dollars in damage to buildings, landscaping, and flooring each winter. Make sure you understand the various components that contribute to the effectiveness and safety of ice melters.
Get ready for winter with the ONLY Pet Safe Ice Melt you can trust
3-To Avoid Ruining The Mats And The Floor, Properly Clean And Remove Ice Melt.
Gaia Enterprises Inc. delivers 100% pet-safe and environmentally friendly winter products. Safe Paw, our flagship product, is the #1 selling pet-safe ice melt that does not harm pets, safe if ingested, and safe on all types of concrete.
To avoid ruining mats or surfaces, vacuum and remove ice melt. To remove unsightly white powdery marks, clean mats with little or no soap and an ice melt residue remover. Mats in High-traffic areas may become saturated with moisture and soil, which occupants track into the facility. Under extreme weather conditions, replace mats as needed throughout the day or use high-velocity air movers. Wait until the mats are completely dry before installing them.
Pet Safe Ice Melt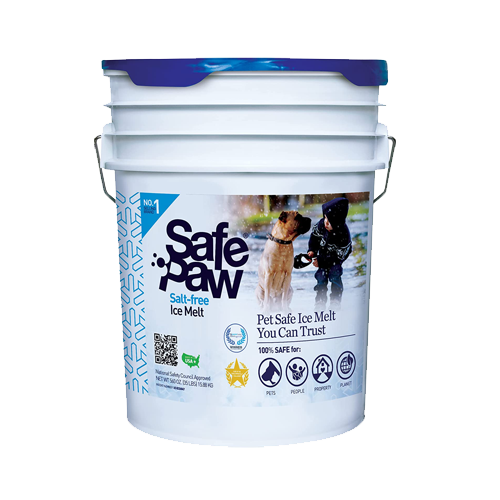 Safe Paw
The Original and the #1 Pet and Child Safe Ice Melt for over 20 years. Guaranteed environmentally safe – will not harm waterways and sensitive wetlands.
4-Check To See If You're Using Your Ice Melt Safely And Adequately.
Wear protective eyewear and gloves to protect your eyes and skin, especially if you're using hygroscopic ice melters like Calcium Chloride and Magnesium ice melt, which pull moisture from your skin. Use the amount that is suggested. Excessive use can harm building materials and vegetation while also increasing costs. The best precaution is to use spreaders with guards to prevent ice melters from being applied to areas that could be damaged. Drop spreaders are the most effective for narrow pathways and walks.
Conclusion
Ice melt comparison is being scrutinized more closely in light of higher environmental standards and a desire to avoid damage to landscaping, pavement, building structures and architectural components, and vehicles. The goal of any ice melter application procedure should be to ensure that sidewalks, parking lots, and other surfaces are free of ice and safe for pedestrian and vehicular traffic while only using enough ice melt to get the job done correctly.
Get ready for winter with the ONLY Pet Safe Ice Melt you can trust
Other Ice Melt Products
Safe Thaw
Imagine an ice melt you can put down and never worry about. It won't harm pets, kids and your property. That's Safe Thaw. Unlike anything else on the market, Safe Thaw can change how winter affects our planet.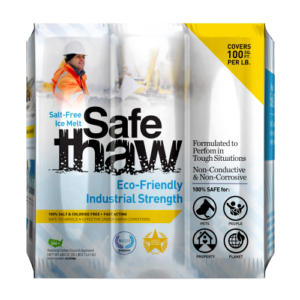 Traction Magic
Stay safe on slippery surfaces with a product that's 100% natural and safe for pets, people, and your property. Use Traction Magic on sidewalks, steps, or as instant traction for your car.