Sidewalk And Parking Lot Ice Removal Tips
Snow can wreak havoc on your parking lot, so ensuring the safety of your employees and customers should be a top priority. For example, suppose sidewalks and parking lots aren't correctly maintained, and someone slips or gets harmed while patronizing a business. In that case, it can spell disaster for the owner. On the other hand, suppose you have the necessary tools and calcium chloride-free ice melt for snow removal. In that case, you'll be ready to take care of your pavement during the cold winter months.
Although ploughing and shoveling can assist, most pavement injuries occur when less than an inch of snow is on the ground. A suitable salt-free industrial ice melt will help you keep your parking areas free from snow and be used as a roof ice melt.
Here Are Some Anti-icing And De-icing Tips To Help You With Ice And Snow Removal:
Do Anti-icing
Anti-icing is a preventative measure to keep ice from forming on the pavement. Anti-icing is sprayed from a truck onto your parking lot's surface. Anti-icing is a highly effective method of removing snow and ice.
Undertake De-icing
Deicing is a helpful utility after a snowfall. You can utilize one of two types of deicers in your parking lot. First, there's salt, which is the most well-known sort of deicer. But it is not the ideal product for parking and sidewalks as it damages the concrete and corrodes the metal. On the other hand, a salt-free ice melt is perfect for parking lot surfaces because it will not hurt them. In addition, it works quickly and lasts a long time. 
Get ready for winter with the ONLY Salt Free Ice Melt you can trust
Get The Right Parking And Roof Ice Melt
Calcium Chloride Ice Melt
Calcium chloride melts ice quickly. But it collects moisture, making surfaces slick, thus increasing the likelihood of a slip and fall incidence. In addition, the chemical may irritate the skin and eyes.
Potassium Chloride Ice Melt
It's more common in ice melt mixes. In addition, it is frequently mixed with other harmful chemicals, making it a menace to the environment and increasing its corrosiveness.
Calcium Chloride-free Ice Melt
Calcium chloride-free ice melt products are becoming increasingly popular. Safe Thaw, for example, is a novel ice melt solution that was developed without the use of salt, unlike many other ice melt products. As a result, this glycol-based ice melt is safe than many different ice melt treatments on the market. It does not corrode metals, does not leave messy residue and works effectively for a long time. 
Get ready for winter with the ONLY Salt Free Ice Melt you can trust
Calcium Magnesium Acetate
It is one of the most expensive de-icing chemicals on the market, costing 30 times more than rock salt. It can also make the pavement slick by refreezing.
Power Thaw Industrial Strength
It is another chloride-based ice melt, having calcium chloride and magnesium chloride. Even though it is manufactured for industrial use, its chloride content makes it corrosive and unfit for concrete.
Conclusion
The dangers of using rock salt to melt ice are now widely accepted. Business owners are currently looking for ice melters that are safe for concrete, roads, and roofs as the winter months approach. A salt-free ice melt will keep your premises free from snow and the risk of slip and falls.
Other Ice Melt Products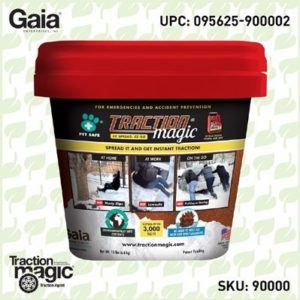 Traction Magic
Stay safe on slippery surfaces with a product that's 100% natural and safe for pets, people, and your property. Use Traction Magic on sidewalks, steps, or as instant traction for your car. Traction Magic provides instant traction on all icy surfaces.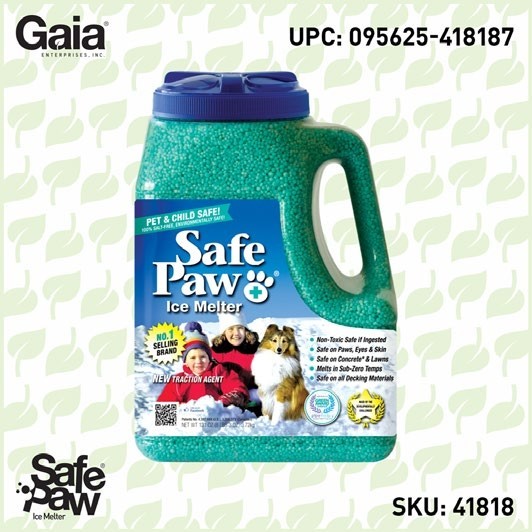 Safe Paw
Imagine an ice melt you can put down and never worry about. It won't harm animals or children, and it won't damage your property. That's Safe Paw. Unlike anything else on the market, Safe Paw can change how winter affects our planet.