Pet Safe Ice Melt In Iowa: A Comparison Of 5 Ice Melt Products
In the last week of January 2021, a blockbuster snowstorm hit portions of the central and northeastern US, making traveling and going out of the homes dangerous. Parts of Iowa are still in the midst of a blizzard caused by Winter Storm Peggy. Snow is already blanketing Iowa with a thickness ranging from 10-15 inches. More snow is forecasted, and state authorities have advised the residents to stay at home as far as possible.
The weather outside is extreme, and it is evident by the recent powerful winter storm that has impacted the normal life in several parts of Iowa. Removing snow from sidewalks and driveways is essential for the mobility & safety of your family including pets. Dogs love to enjoy and play in the snow, but they can also suffer injuries in their paws, skin irritation, burns, diarrhea due to ingestion, and contact with chemical ice melt. Therefore as a responsible dog owner, you should choose dog-safe ice melt.
Non-Toxic Ice Melt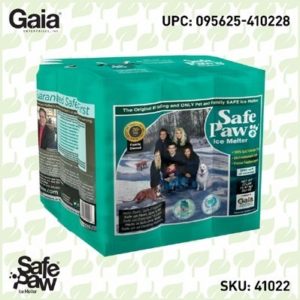 Safe Paw
The Original and the #1 Pet and Child Safe Snow Melt for over 20 years. Guaranteed environmentally safe – will not harm waterways and sensitive wetlands.
There are various options in the market, and in this article, we will help you choose a dog-friendly ice melt.
1. Safe Paw –
The main ingredients of Safe Paw dog-safe ice melt are carbonyl diamine, urea, and glycol. It is pet-safe, non-toxic, environment friendly, and non-corrosive. The reaction of the Safe Paw with the ice is endothermic. Therefore, it doesn't hurt or injure the dog's paws and feet skin. More importantly, it doesn't cause any harm to the pets if ingested in small quantities.
On top of all this, Safe Paw has an unlimited shelf life, can be effective up to a temperature of -2 degrees Fahrenheit and can prevent ice from refreezing to the surface for three days after application. All these features make Safe Paw the no. 1 choice for dog-friendly ice melt.
2. Paw Thaw Ice Melt –
Paw Thaw is another ice melt marketed as pet friendly. However, Paw Thaw contains propylene glycol that is harmful if ingested by dogs may require immediate medical attention. Paw Thaw is effective for a short period after its application, and it is not long-lasting, unlike Safe Paw.
3. Green Gobbler –
Green Gobbler contains common rock salt (sodium chloride) that generates exothermic heat in its reaction with ice. The heat can cause paw burns and injuries to the skin of the pets. You have to immediately wipe their paws with damp cloth or wipes after the pets are back from their routine walk. Green Gobbler ice melt is also harmful if ingested by dogs and can even cause death if there are pre-existing kidney-related problems.
---
Weather Forcast
---
4. Morton Safe T Pet –
This ice melt contains urea, and though it will not burn the paws, it can be harmful if swallowed by the pets. Morton Safe T Pet is not environment friendly and only effective at temperatures up to 15 degrees Fahrenheit.
5. Uline Ice Melt –
Uline ice melt is effective up to a temperature of -20 degrees Fahrenheit but, it contains magnesium chloride that produces exothermic heat and injures the paws of your pets. This ice melt is also harmful to pets if ingested by them.
---
Other Products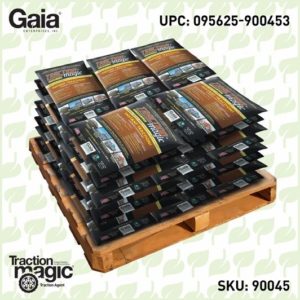 Traction Magic
Stay safe on slippery surfaces with a product that's 100% natural and safe for pets, people, and your property. Use Traction Magic on sidewalks, steps, or as instant traction for your car. Made in the USA.
Safe Thaw
Imagine an ice melt you can put down and never worry about. It won't harm animals or children, and it won't damage your property. That's Safe Thaw. Unlike anything else on the market, Safe Thaw can change how winter affects our planet.
---