My Pet Safe Ice Melt Solutions During Heavy Snowfall This Winter In Iowa
According to Farmer's Almanac, this winter temperature will be much above normal, on average in Iowa. Snowfall is predicted to be below normal in most areas, with the snowiest periods in early and mid-December, mid-to-late February, and early to mid-March.
So, the snow season is upon us. But, the beautiful-looking snow all around and wind-chills can be harsh on our four-legged companions. In this article, we will discuss different ways we can take care of our pets.
Paw Safe Ice Melt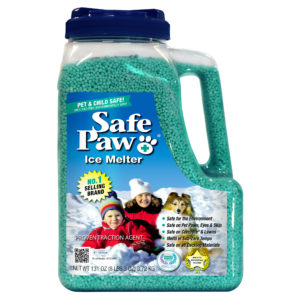 Safe Paw
The Original and the #1 Pet and Child Safe Ice Melt for over 20 years. Guaranteed environmentally safe – will not harm waterways and sensitive wetlands.
My Story Of Finding The Best Pet Safe Ice Melt
A shocking revelation
Earlier I used to shovel at regular intervals (before, during, and after the snow ) and clean the soft and fluffy snow on the staircase and pavement frequently. I was using rock salt at that time, but I knew it wasn't a good option. Sometimes, I used cat litter as well on the sidewalk and driveway. It added some traction, but it didn't melt the ice.
I was looking for a solution that was effective and also safe for pets. So, I tried some ice melt that was labeled pet-safe. However, it was a shocking revelation for me when I came to know that those ice melt were also using the same chemicals as others and only rounding off the edges to claim themselves pet-safe.
Finding the best fit by chance
And then a friend suggested me to use this product. I wasn't ready to try another product, but it was available at my nearest Chewy store, so I tried it. I was happy to find it wasn't causing any skin or eye irritation. When I researched, I found that it does not have salt in its blend. It uses a proprietary blend of ingredients that break down the structure of the ice to melt it. Therefore, I found it to be the safest option for my pet, property, and the environment as well.
Now I recommend it to all my pet-owner friends. It's a 100% pet-safe ice melt solution that will not burn your pet's paws or poison the pet if ingested.
---
Weather Forecast
---
After trying and testing everything that I could get hold of, here's what I found to be working best-
1-Use only pet-safe ice melt- No matter what precautions you take, you need a safe ice melt that you can use around pets (like the one I use). Always check the label for the ingredients. Do not buy a product that has salt or chloride in any form (Magnesium chloride, potassium chloride, calcium magnesium acetate, calcium chloride, calcium carbonate).
2- Keep them inside- Pets are extremely sensitive to wind chills. They can get hypothermia and frostbite -if kept out for long.
3- Wash and dry their paws after every walk. Use lukewarm water and dry them using a towel.
4- Use Dog boots. It may take some time to get your dog used to the booties, but it's totally worth a try.
5- Dogs should be prevented from eating ice melt when taken out for a walk.
6- Store ice melt safely so that your pet can't get into it.
---
Other Products
---